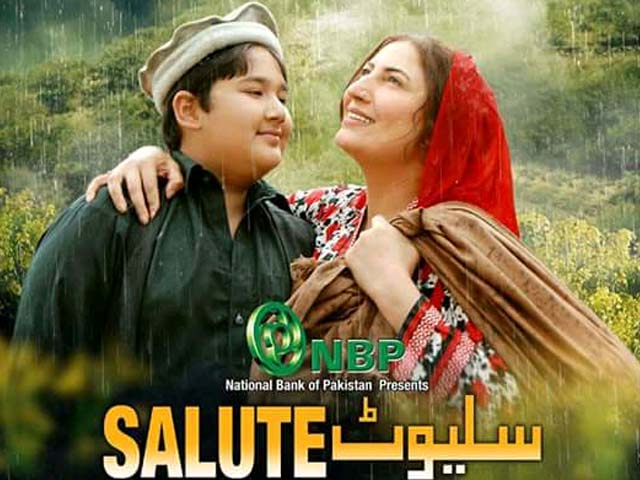 ---
I Salute you, Aitzaz Hassan
Ali Mohtesham generates an eternally flowing gush of empathy and adoration for Aitzaz Hassan and his sacrifice.
---
Shehzad Rafique is a well-known name in the Lollywood industry. From Ghunghat to Rukhsati to Nikaah, the masses till date remember his movies. After a short hiatus, Rafique is back with a biopic on Aitzaz Hassan – a 14-year-old martyr, who stopped a suicide bomber from entering his school in 2014, saving the lives of thousands of students – titled Salute. The movie is amongst the first biopics that Pakistan has produced on martyrs.


Saima Noor was highly appreciated for her drama Rung Laaga with Faisal Qureshi – and now she graces us with her presence on the big screen. As an accomplished actress, a lot of expectations were pinned to Saima's able shoulders. Ajab Gul, last seen in Janaan, also plays a pivotal part in this production.

So let's get on and see what Salute has to offer its viewers.




Ajab and Saima are cast as Hassan's (played by Ali Mohtesham) loving and protective parents. Nayyar Ejaz, Sheraz, and Rashid Mehmood play the villains of the movie.

When it comes to performance, Saima hits the mark. She is the epitome of a protective mother, expressing her emotions with effortless conviction. Ali generates an eternally flowing gush of empathy and adoration for Hassan and his sacrifice, making him resonate within the hearts of the audience. He is the reason why the viewers will find themselves laughing or crying throughout the film.




Ajab is an incredible actor, and Nayyar is just as remarkable, especially as the antagonist. His notorious expressions are executed brilliantly, and you could say that he is the life of the movie. The rest of the actors could have put in more effort, but the main cast is brilliant in their acting, so much so that the audience is left awe-struck when it ends.

When it comes to direction, Salute is definitely top-notch. Rafique's framework, cinematography and direction are all displayed exceptionally – he takes charge behind the camera, and his efforts do not go unappreciated.




The late Robin Ghosh's music is melodious. Lab Pe Aati Hai Dua and Tu Hai Mera are shot with finesse and work effectively in evoking a strong range of emotions within the audience.

The only flaw I came across was in terms of scene synchronisation, especially in the first half. Apart from that, Salute is a well-executed biopic. Those who want to support Pakistani cinema, are patriotic towards their motherland and proud of martyrs like Aitzaz Hassan, should definitely go and watch this movie. It'll definitely bring tears to your eyes and generate a whirlwind of emotions, if towards nothing else, surely because of a selfless sacrifice of 14-year-old who had his whole life ahead of him.