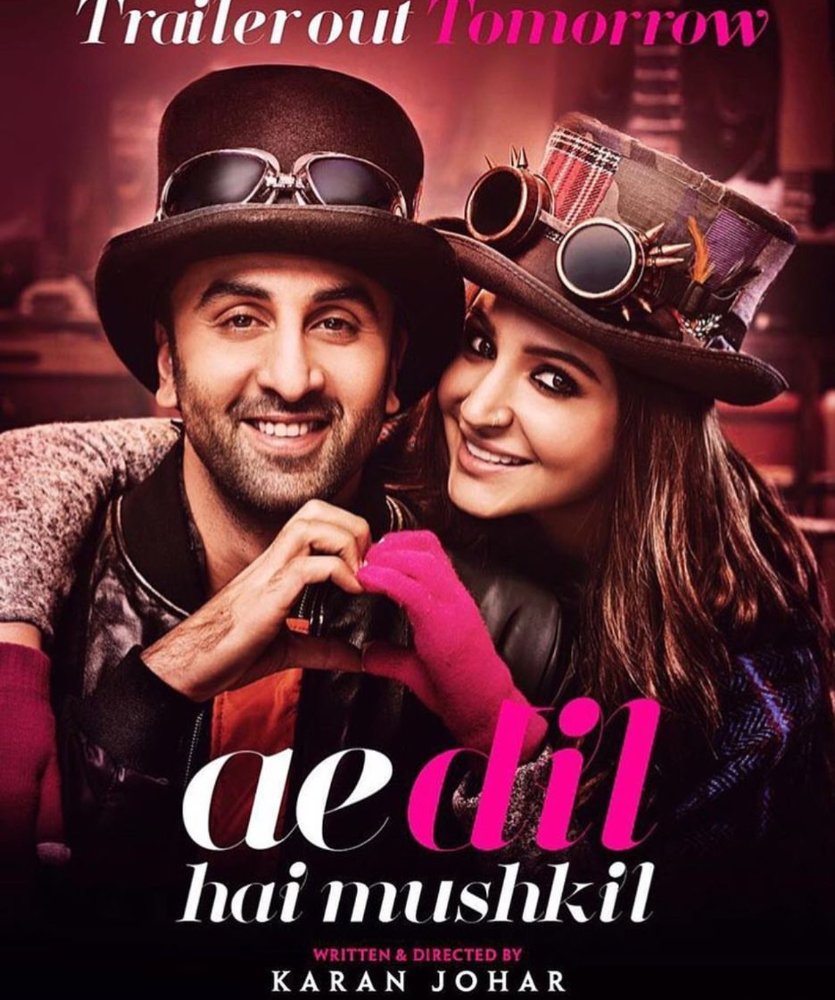 ---
The presence of a Pakistani actor was the least of Ae Dil Hai Mushkil's problems
Unrequited love can be a fascinating subject to explore but it needs deft handling – which this film fails to deliver.
---
Ae Dil Hai Mushkil (ADHM); where do I start? First of all, there is disappointment. Not so much with the movie, because I expected very little from it, but with the four star ratings given by NDTV and The Times of India (TOI). Secondly, disappointment regarding the fact that, in this day and age, such immature and ham handed execution of a film is not just being accepted, but is getting lapped up eagerly in this country.


The movie itself is pretentious, artificial and inauthentic. It's trying too hard to be edgy and sophisticated, but is actually just a pathetic rehash of key elements from recent movies like Rockstar, Love Aaj kal, Katti Batti, and some others too, I'm sure.

There's nothing original or fresh and neither is there anything that stimulates you.

The characters' emotions are contrived and their reactions to the situations are frequently exaggerated, inexplicable or clichéd. Everyone is running away from something or someone and, with all that running, it may just as well have been a sports movie. In fact Milkha Singh is even referenced at one point in the movie, and the irony is hard to escape.

Now coming to the actors; Ranbir Kapoor really needs to break out from the rut he's gotten himself into. His character is part immature boy-man and part psychotic, angst ridden, brooding man, similar to how we've seen him in so many other movies. The Ranbir Kapoor of Raajneeti, who brought in a different dimension and flavour, is being thoroughly missed.




Aishwarya Rai Bachchan is trying too hard to play a goddess and comes across very fake. The Botox speaks louder than her histrionics and she falls well short of exuding the mature sensuousness that her character requires. Perhaps all the censor imposed cuts took a toll on how her character shaped up for the audience, but the end result was disappointing and at times cringe-worthy.




Anushka Sharma was good in parts but equally annoying in others. Again, her character is a vibrant and fun loving girl, which is something she's done frequently, so no breaking of new ground there either.




Unrequited love can be a fascinating subject to explore but it requires deft handling – which this film fails to deliver.

On the positive side, there are some pretty funny moments that actually made the audience laugh out loud. The portrayal of Aishwariya as a confident, older woman in control of her sexuality was also a positive in the context of conservative Hindi cinema.




The locales in Europe are beautiful, but that brings us to another problem. Karan Johar's habit of juxtaposing typical Indian themes with foreign locations seems rather patronising. It's almost like airbrushing the blight of urban Indian life. It's okay if it's done in one or two movies, but if it becomes the norm then it is more of a crutch than a prop. Escapism should have its limits, especially in cinema that aspires to be grown up and serious. Johar wants to grow up from candy floss, and has probably avoided the bright pink, but he still can't resist a darker colour of it.

In hindsight, one has to say that the presence of a Pakistani actor was the least of the problems for this movie. It got undone by its own mediocrity. It's nowhere close to being a classic or the masterpiece that it purports to be, and that masquerade is actually the bigger problem.




Of course, India as a nation is highly tolerant of mediocrity. We tolerate corruption, shabby infrastructure, shoddy workmanship, and administrative incompetence. It's therefore not surprising that people would be lining up at box offices across the country to get an eyeful of the beautiful faces, exotic locales, and an earful of some generic middling music, without much expectation in terms of a tight narrative, real acting, and originality.

Nowhere else in the world but India do elements like music and location contribute to get the cash registers ringing and, until the time we don't become more demanding, Bollywood will keep serving us this pedestrian fare that contributes to keeping India dumb.

All in all, it's an eminently avoidable movie for a discerning audience that places more onerous demands on the cinema it consumes.