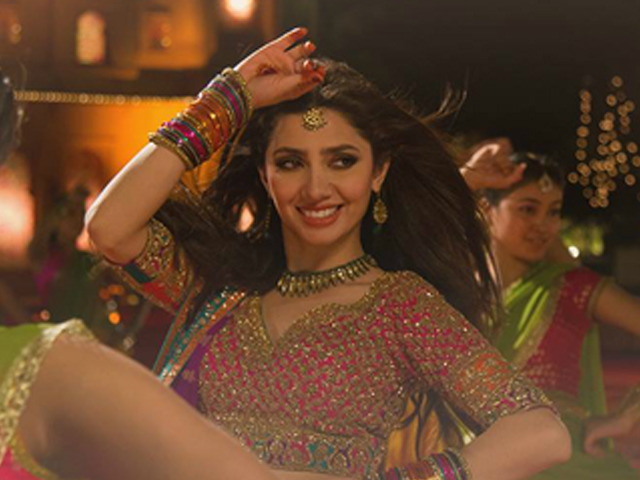 ---
Mahira's "matkas" and "jhatkas" prove she's the greatest marketeer in Pakistan
What happens when there is no longer a need for "Mahira the Masoom" ?
---
Mahira Khan's larger-than-life performance and her red-carpet appearance at the LSA2016 (replete with a dress and entourage big enough to fill up all of Expo Center), proved to me that she's an excellent brand manager who understands her target audience very well.


At a time when people are desperately trying to go back to old values, Mahira brings back the charisma of yesteryear.

Her audience loves when her lip is bitten in sharam. They oppose the women who bite it in lust.

They love when her dupatta falls strategically at the right time during a performance. They do not like women whose dupattas are intentionally hung away.

They like when she giggles as soon as she sights the male lead and runs away shyly with her sukhi sahelian (content friends). They do not like women who tell the joke to the male lead and then laugh uproariously even when he doesn't.

This woman perfectly knows what works in Pakistan and she does it brilliantly well!

She's the Pakistani darling, sweetheart, beloved – and she won't stray from that image even for a second.

She'll turn up in a poufy gown that covers her body but shows enough shape to keep the audiences mystified.

She chooses roles where her chastity belt is tightened and her charm churns through.

She's not just an actress, host, dancer – she's the director of the greatest personal brand to exist in Pakistan.

She's as brilliant as Waqar Zaka – another brand manager who knows his audience equally well. Controversy works in Pakistan and so he dates it with delect.

And that's the reason why women like Mahira will always win "Best Actress" awards and women like Qandeel Baloch will be shot in Pakistan.

But I ask the stunning marketer - what happens when her brand becomes old – does brand loyalty stay with her when "sharam" no longer sells?

Where does her career go when she can no longer be the beautiful "bahu" or "beti"?

Will we be ever able to digest Mahira as a stereotypical "saas"? The roles she has herself helped create in the industry.

What happens when "behaya" and "beghairat" women take the stages?

What happens when there is no longer a need for "Mahira the Masoom" ?

I'm sorry I bring up these difficult questions to you, Mahira, but I guess these are the ones I hope your daughter or the women in Pakistani will ask you one day!

[poll id="668"]

This post originally appeared here.