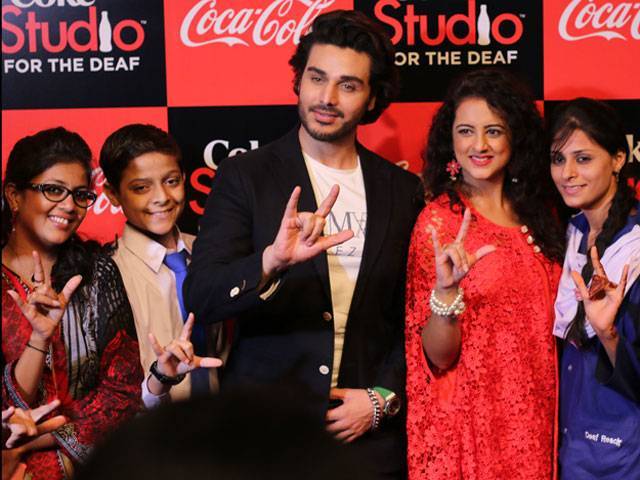 ---
Coke Studio proved that music doesn't need to be heard, it needs to be felt
Coke Studio took eight deaf students to Bangkok to try and empower people who are hearing impaired to sense music.
---
"Music is the language of the spirit. It opens the secret of life bringing peace, abolishing strife," - Kahlil Gibran

Recently, Coke Studio (famous for bringing artists from remote areas of the country to the forefront) began a praiseworthy project facilitating Pakistan's nine million population of deaf individuals to experience music. Titled, Coke Studio for the Deaf, the program will help people with hearing impairments to infiltrate and understand the significant effect, as well as the psychological, convictional and behavioural power of music.

Any art of resonance that articulates thoughts, dreams and sentiments through the components of rhythm, tune and harmony, is in fact an outpouring of the soul, where an individual can change and come across a totally different perception of him or herself. In other words, music is the unanimous language of human beings, it can express the inexpressible and help us converse beyond the bounds of human comprehension. This makes music so pleasing and exquisite.

Various people still have questions regarding this though; they seem unsure about whether or not the deaf community can enjoy music.

The answer is simple; they can.

People with minute or no hearing ability at all can still feel the message behind music. One such example is the prodigious musician and composer, Ludwig van Beethoven, who lost his hearing during the peak of his career, but produced phenomenal music including the Moonlight Sonata (1801) and the Eroica Symphony (1803-4) which symbolised the end of the classical era and the beginning of musical romanticism. Symphony no 5 and 6, The Pastoral as well as Ninth Symphony (1817-23) were all produced during his deafness. To 'hear' sounds, Beethoven depended on the vibrations of his legless piano and by feeling the slight trembling of the floor when he played.

A deaf person can enjoy the rhythm of music by feeling shakiness, vibrations and fluctuations. Surprisingly, they can even reveal the musical sense of high and low pitches, just like people with normal hearing. Some of the famous deaf musicians include jazz singer; Mandy Harvey, composer; William Boyce, singer; Johnnie Ray and songwriter and rapper; Sean Forbes.

Take a look at this video in which deaf actor Russell Harvard performed Fireflies (by Owl City),


Coke Studio's team took Deaf Reach School's faculty and a group of eight students to Bangkok to try out an unusual technique which empowers people who are hearing impaired to sense music. It is a unique system with a sofa or couch in-built with sequences of vibrating engines and lights that are synced with reverberations of the music being played.


It is overwhelming to watch deaf people harmonising and enjoying Atif Aslam's Tajdar-e-Haram and Quratulain Baloch's Sammi Meri Waar. Their facial expressions clearly showed that they liked the concept and truly felt the high and low pitch. At the end of the video, the participants expressed their feelings,

"Whatever my body felt… whatever my brain thought… even though we can't hear the music, we can feel it,"

"I had no idea that I would be experiencing something new here,"



The video, which has gone viral, has been appreciated for its unique and creative ideas by spectators as it promotes the concept of integrating special people into normal lives and highlighting their needs. It also changed common perceptions about a deaf person's abilities and likeness towards music.

It is an imperative and useful resource in dealing with a lot of matters related to the problems of deaf youngsters and their vision regarding listening to, and making music. It can be a way to give them an introduction to take part in all kinds of musical activities. It can benefit them by boosting their confidence level, help them learn about human feelings, and acquiring some beneficial skills.

Music acts as an emotional purification; a way to join others, and their chosen ritual of art. It is a misconception that people with little or absolutely no hearing cannot take part in music. For this reason, Coke Studio for the Deaf works towards removing obstructions and giving back to the community. There are numerous musicians that are deaf, but have compiled incredible musical pieces and frankly speaking we never know who the next one might be.