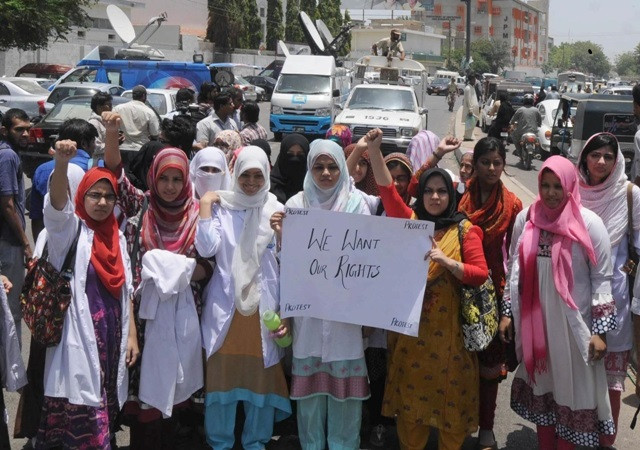 ---
Student unions — not the bigger issue
There is no platform for a student to raise his concerns, to voice his opinion, to become a leader of tomorrow.
---
Should student unions be restored? For half of the students studying in state-run universities, this is an important question. As for the other half, the 'should' in the statement ought to be placed after union, making it read 'student unions 'should' be restored, therefore, making it a statement with no ifs, ands or buts.

Since Ziaul Haq imposed a ban on student unions, the dynamics of student politics have changed completely. From politically charged students to violence-driven student wings, there has only been one losing party — those students that remain 'neutral'.

One often wonders as a student what platform he should use to raise his concerns, to voice his opinion, to become a better leader for tomorrow. To this, there is only one answer — there is no such platform.

Then the following argument to be raised is, should a neutral student, who is not part of a political party student wing, be given a separate body which represents the students. But then will that 'perfect' body be a solution to all the student problems?

Studying in one of Pakistan's biggest state-run universities, I'm sure of one thing — students, in general, are nowhere in the university's list of priorities. With Karachi University making fruitless efforts to get out of its financial crisis, the students and their unions are not going to be an important issue any time soon. And probably, for now, it is good. Good to an extent that a system required to curb the student problems will not be at its best the day it is implemented.

It, like any other system in Pakistan, will take its time to grow, to nurture, come up to a mark that it starts affecting the students in a positive way. But for that, we will first have to restore the student unions and be prepared to face heavy criticism. Students should now pin their hopes on the new government, which has promised to bring change in the education system and this might just be the change public sector universities need.

Read more by Basma here.