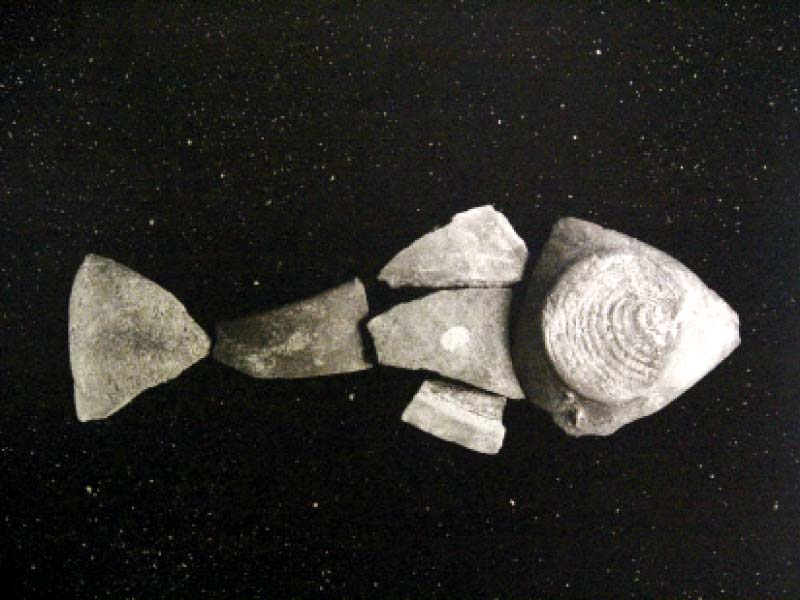 ---
LAHORE: Tales from the Swat Sky—an exhibition featuring the work of photographer Aurangzaib Khan commenced at Taseer Art Gallery on Monday.

"I have been working as an archaeological photographer for four years with the Italian Archaeological Mission, Swat," Khan told The Express Tribune. He said most of his work had been published in the mission's publications. "While photographing and documenting excavated pottery, stones and other findings in 2013 I chanced on a broken artefact which came across as a bird," Khan said.

He said he had played around the artefact and ultimately made it look like a bird in flight on a starry night towards the moon. Khan said this was how the collection of 14 photographs displayed at the exhibit had come together. The photographer, who studied electronics and communications, said he always had a penchant for photography. "After completing a postgraduate degree in England, I looked in vain for work," he said. Khan said he had later attended a photography workshop organised by a friend in 2012 after which he had started working with the mission.

"Most of the stuff used in these images is around 2,000 years old," He said. Khan said the age of the artefacts lent a historic value and reference to the images.

"When we think of Swat we envision something negative. It's not like that. It has a very chill vibe and people hang out in the bazaars and eat at dhabas," he said.  Khan said select photographs represented things the district was noted for. "I used some broken pottery and placed it in such a way that it looks like a fish. I did this as Swat's fish is delectable and famous," he said.

Khan has used the dust that comes off terracotta pieces to fashion the background of black and white images. He has used other artefacts including bangles to depict the moon and pottery to portray various scenes such as mountains, stairs etc.

The photographer said a great amount of work went into recovering the antiquated pieces. He said between 150 and 200 people were involved in the effort. This series is a child's play with historical awareness to translate the texture of days in Swat and a conversation between my inner self with the offspring of Gandhara. Khan said he had been planning to publish a coffee table book with more of such images with the assistance of Italian Archaeology Mission Head Luca Olivieri.

Taseer Art Gallery proprietor Sanam Taseer said Khan's work featured pieces of ancient pottery suspended in space. Taseer said his work made one think about pottery as a medium. "It transcends all cultures and realities and exists as universal and timeless art form," she said.

Curator Haider Ali Jan said Khan was not steeped in artist speak common across art institutes. He said he found this refreshing. "His work blurs the line between documentation and art," Jan said. He said he felt this was also a great strength of his work.

The show will conclude on December 1.

Published in The Express Tribune, November 27th, 2015.