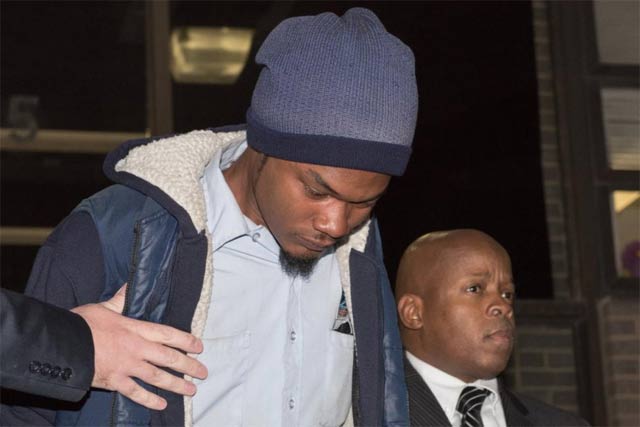 ---
Police officials arrested on Tuesday a New York City postal worker after he allegedly spat on two Muslim women, followed them and threatened to burn their 'temple.'

Dainton Coley, 34, faces hate crime charges as he is suspected of bumping into two sisters wearing hijabs before launching an anti-Muslim tirade.

Anti-Muslim protester in US won over by hugs

According to reports, the women pushing a baby stroller fled into a nearby store but Coley followed them. The 34-year-old was caught on camera yelling at the sisters inside the store on Friday evening.




"I am going to burn your temple," the attacker said, according to a Council on American-Islamic Relations.

One of them woman reportedly told him that he was crazy, but he replied, "I'm not crazy, I work in the post office."

Muslims defend Islam from being hijacked by ISIS

Further, according to the council, Coley allegedly called the two sisters 'terrorists', elbowed one and hurled abuses at the other.




As a result of his behaviour, he was charged with acting in a manner injurious to a child, harassment and menacing as a hate crime.




Jameel Abdulla, owner of the deli which the women entered to escape from the man, identified Coley as a customer who comes to the store to buy beer. Abdulla also claimed, Coley is well known on the street.

French Muslims fear deeper divide after Paris attacks

Yousif Adailam, a clerk at the store, added that Coley frequents the deli and has been a problem before. "He comes here a lot and is always drinking on the job," Adailam said. "He always has a beer in his hand and sometimes bothers customers."

Violence against Muslims has increased in the aftermath of recent Paris attacks claimed by the Islamic State.

This article originally appeared on Mail Online.
COMMENTS (3)
Comments are moderated and generally will be posted if they are on-topic and not abusive.
For more information, please see our Comments FAQ