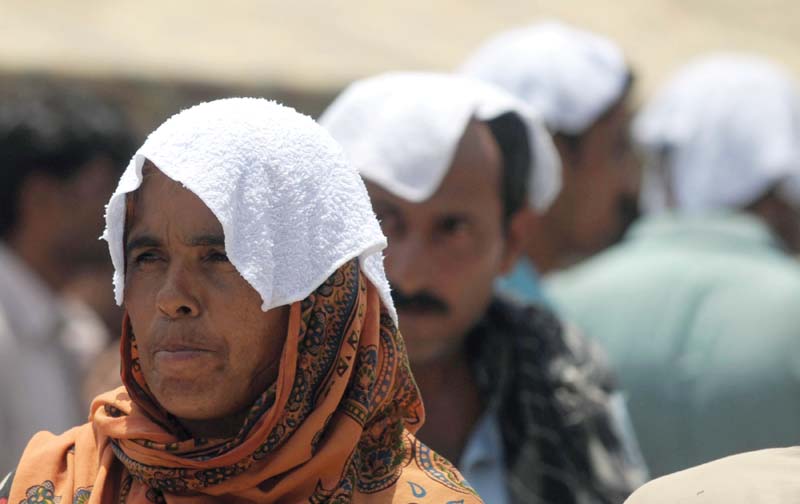 ---
KARACHI: While the frequency and intensity of heatwaves have increased significantly in the recent past in this particular region, the government seems practically unaware and ill-prepared to deal with the threat.

Urban centres in particular have borne the brunt with hundreds of fatalities resulting from unprecedented heatwaves this year alone. According to Bilal Khalid, a representative of non-governmental organisation (NGO) LEAD Pakistan, by the time the heatwave was detected in Karachi, it had already claimed hundreds of lives. "Heatwave is practically undetectable," he stressed.

Report launch: Pakistan to experience more intense heatwaves, minister warns

He was speaking at a workshop, titled 'Public Engagement Workshop: Facilitating Karachi City in Heat Wave Management', arranged by LEAD Pakistan and Climate and Development Knowledge Network (CDKN), who are undertaking a project to facilitate the Karachi city district government in heatwave management.

A severe heat wave had hit Europe in the year 2003 which killed 15,000 people only in France out of a total 70,000. It was considered to be the worst health crisis since World War II. After the crisis, Khalid explained, France developed a two-pronged response strategy: prevention and management.

Speaking about the preventive strategy, he said that information dissemination was vital. This includes brochures on heatwave risk prevention, information campaigns before summer season, heatwave 'blue plan' for collective residential establishments and heat wave 'white plan' for health establishments.

Faster than a melting glacier?

According to the blue plan, such setups that have more housing such as nursing homes where the elderly population resides, must be mapped so that the town office has complete information regarding the old population as they are the most vulnerable to heatwaves.

The white plan, explained Bilal, is for hospitals. "It is essentially a very common-sensical plan," he said, adding that according to this plan, usually if a heatwave was about to hit, the leaves of all medical staff would be cancelled.

Speaking about the response strategy management that France has adopted, he said that they have developed national and local heatwave management mechanisms, which were based on the level of heat alerts and have also identified agencies to work on it.

Karachi braves record heatwave this month

According to an international journal of epidemiology study of 2006, in a heatwave in France during the year 2006 (from July 11 to July 28), about 2,065 excess deaths occurred." Considering the observed temperatures and with the hypothesis that heat-related mortality had not changed since 2003, 6,452 excess deaths were predicted for the period," he said, adding that the observed mortality during the 2006 heatwave was thus markedly less than the expected mortality.

Speaking about the heatwave that Karachi recently faced, Urban Unit CEO Dr Nasir Javed said that fasting contributed much to the fatalities. He said that almost 30 per cent of the female population is exempt from fasting. Adding up the children, minorities and the old population, he said that around 50 per cent of the population did not fast and we end up shutting down all restaurants and eateries in the city during Ramazan. "This makes access to water very difficult," he said.

Meanwhile, urban planner Farhan Anwar said that the government mostly gave knee-jerk responses, which were usually useless. He said that proper planning needed to be done. "Census, including the vulnerability assessment, should be done. We don't even have the surface temperature mapping, which is also very vital for handling heatwaves," he said. Karachi, according to Anwar, is a very fragmented city. Hence, he said, standard operation procedures should be developed for hospitals and the water board. He also emphasised the need for decentralisation of power in the city to solve problems.

Published in The Express Tribune, November 25th,  2015.
COMMENTS
Comments are moderated and generally will be posted if they are on-topic and not abusive.
For more information, please see our Comments FAQ