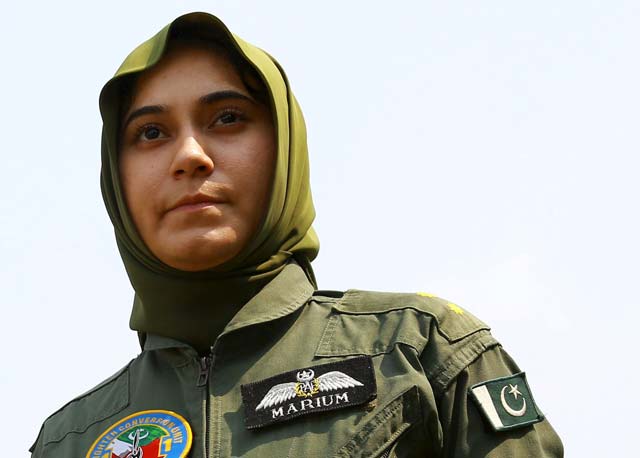 ---
One of Pakistan's few female fighter jet pilots was killed in a training crash Tuesday, the air force said in a statement, adding that she was the first of its women pilots to "embrace martyrdom".

Flying Officer Marium Mukhtiar and Squadron Leader Saqib Abbasi were flying a training mission on an FT-7PG aircraft and encountered a "serious in-flight emergency" during the final stages, the Pakistan Air Force (PAF) said in a statement.

"Flying Officer Marium embraced martyrdom and became the first lady pilot from PAF to attain this great honour," it said.

https://twitter.com/iFighterPilot/status/669088773653848064

The crash took place in Kundian, Mianwali district, about 175 kilometres (109 miles) southwest of Islamabad.

The male officer, Abbasi, sustained minor injuries, the air force added.

"Both the pilots handled the serious emergency with professionalism and courage and tried to save the ill-fated aircraft till the very last minute," the statement said.

In order to ensure the safety of civilians on the ground, they were forced to eject and the aircraft crashed, the PAF said.

Pakistan is a highly traditional, patriarchal society where opportunities for women are limited.

But in 2006 seven women broke into one of the country's most exclusive male clubs to graduate as fighter pilots -- perhaps the most prestigious job in the powerful military and for six decades closed to them.

It is unclear how many women have joined the air force as fighter pilots since then. A New York Times report in June put the figure at 21.

PAF Fighter plane crashes near Mastung

This is not the first time a PAF trainer jet has crashed. In September, a PAF fighter jet F7-PG crashed near Mastung during what officials described as a routine training operation. The pilot managed to eject to safety.

According to a spokesperson for PAF's Samungli Airbase in Quetta, "The F7-PG fighter jet was on a routine training mission when its engine caught fire and crashed on a fray near Mastung." "The pilot, flight lieutenant Yasir, ejected himself from the plane safely while no loss of life and property was reported in the incident," he added.

PAF helicopter carrying flood relief goods crash-lands in Chitral

Earlier in August, a PAF helicopter, which was carrying flood reliefs goods, was forced to make an emergency landing in Chitral after developing a technical fault. Reports said PAF's MI-17 helicopter crash-landed in the Mastuj area of Chitral after it is said to have been partially damaged while carrying out flood relief activities in the region.

Meanwhile, Marium's body reached Karachi's Faisal Base in C-130 for burial.

PAF officials, family, and relatives were also present to attend the funeral prayers.

COAS pays tribute to Marium Mukhtar

Chief of Army Staff General Raheel Shareef has expressed condolence with the bereaved family of Marium.

The army chief paid tribute to the flying officer and her sacrifice.

"She was indeed a role model for women and pride of Pakistan," General Raheel said in his condolence message.


COMMENTS (78)
Comments are moderated and generally will be posted if they are on-topic and not abusive.
For more information, please see our Comments FAQ