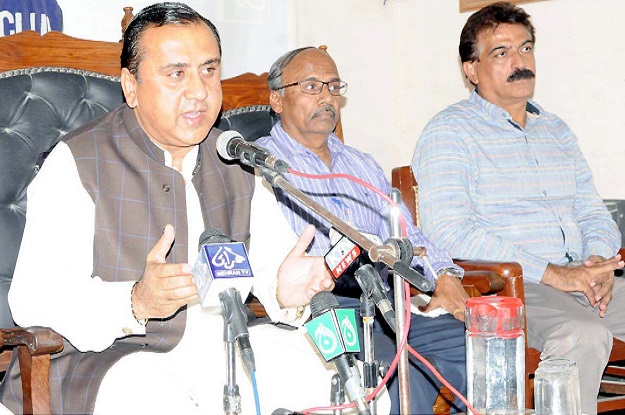 ---
KARACHI: Pakistan Hindu Council (PHC) condemned the November 19 attack on MNA Dr Ramesh Kumar Vankwani during a press conference on Monday.

"How can the minority communities consider themselves safe when their leaders are openly attacked by criminals?" said PHC president Chelaram Kewlani during the event. The Sindh government should take the culprits to task, he claimed. He also requested that chief minister, governor, police IG and interior minister should look into the investigation of the case.

Speaking to the media, Vankwani said that about 40 people attacked his car and started firing at it, outside the polling station near his house in Islamkot during the second phase of the local bodies' elections. He said that, even though he escaped unharmed, his vehicle was severely damaged.

The suspects have been identified to belong to a gang led by the nephew of Mahesh Malani, Pakistan Peoples Party MPA from Mithi, he claimed. He also said that he has video clips of his attackers. A FIR was registered against the gang on the next day, he added.

However, on the third day [of the incident] through the interference of interior minister Chaudry Nisar the first FIR was cancelled, said Vankwani. Later on, another FIR was registered against an alleged local criminal, Kuldeep, and 40 local people, he claimed.

"I will travel to Islamabad, where I will meet Prime Minister Nawaz Sharif and discuss concerns regarding the safety of minorities in Sindh," he said.

Published in The Express Tribune, November 24th, 2015.
COMMENTS (2)
Comments are moderated and generally will be posted if they are on-topic and not abusive.
For more information, please see our Comments FAQ