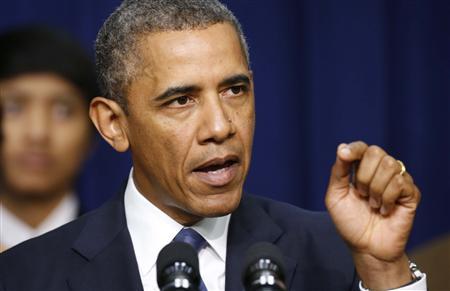 ---
KUALA LAMPUR: United States President Barack Obama on Sunday said the US and its allies would not relent in its fight to combat Islamic State extremists and would hunt down their leaders and cut off the group's financing.

Obama, Putin agree need for UN-negotiated Syria talks, ceasefire

"Destroying (Islamic State) is not only a realistic goal, were going to get it done," he told a news conference after a meeting of Asian leaders in Malaysia.

"We will destroy them. We will take back land they are currently in, take out their financing, hunt down leadership, dismantle their networks, supply lines and we will destroy them."

Obama rules out US troops on the ground to fight Islamic State

Obama said it "would be helpful" if Russia directed its focus on tackling Islamic State and he hoped Moscow would agree to a leadership transition in Syria that meant its president stepping down.
COMMENTS (5)
Comments are moderated and generally will be posted if they are on-topic and not abusive.
For more information, please see our Comments FAQ