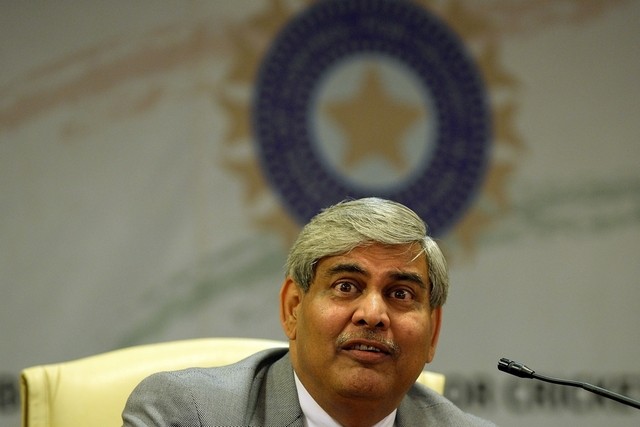 ---
Board of Control for Cricket in India (BCCI) chief Shashank Manohar insisted on Saturday that a cricket series between Pakistan and India should be played in India – a proposal the Pakistan Cricket Board (PCB) had earlier rejected.

The BCCI chief who has recently taken up the charge of International Cricket Council's chairman is in Dubai for meetings with ICC officials while the PCB chief Shaharyar Khan remains in UAE to pay a courtesy visit to Sheikh Nahyan bin Mubarak, Minister of Culture, Youth, and Community Development and chairman of the Emirates Cricket Board.

Informal talks: PCB, BCCI top brass likely to meet in UAE

"There are reasons for not playing in the UAE," Manohar was quoted as saying before he landed in Dubai. However, the BBCI chief did not disclose the reasons.

"[That] has been said by whom? Did I ever say this?" Manohar told the UAE-based newspaper The National when asked on Saturday why India were not keen to play in the UAE.

When pressed further, the BCCI chief said: "No, we want to play in India. That is the thing. Presently we gave an option to Pakistan asking them whether they will come to India. Pakistan was to get back to me, they haven't got back to me. So I don't know that is the position."

Manohar's insistence comes a week after Shaharyar categorically rejected the idea of Pakistan-India cricket series happening in India during his interview with ESPNcricinfo.

Shahryar Khan wants to know India's reason to not play in UAE

The PCB chief had said that he was still waiting for an explanation as to why the Indian government was opposed to its team playing in UAE but was adamant that Pakistan would not go to India. "There is no question of playing in India. I'm still awaiting the reason of not playing in UAE. We went there in 2007 and 2012. This time not again. It is our series and we will play at our home venue which is the UAE."

"What is the problem playing in UAE as they had also played their IPL (Indian Premier League) there as well so why not Pakistan series?"

Meanwhile, Giles Clarke, chairman of the England and Wales Cricket Board and a senior representative of the ICC is expected to play mediator between the heads of both the Pakistan and India cricket boards, however, it is unlikely that there could be a one-on-one meeting between Shashank Manohar and Shaharyar Khan in Dubai.

"No meeting is planned for Sunday but if Manohar wanted to see me he can," Shaharyar had told the UAE-based daily on Friday. "So far there is no move and certainly I am not going to make any move."

Pakistan not ready to play in India: PCB chairman

The PCB chief also made it clear that the matter was not out of the board's hands. "We put across our position very clearly [that we will not play in India]. Now the ball is not in our court. The government has said they will decide all matters between Pakistan and India series. There is nothing for the board to do. All we can do is listen to what they [BCCI] say and pass it on to the government. We are not involved in it anymore."

When asked about speculations regarding Bangladesh and Sri Lanka as venue options for the series both Shaharyar and Manohar refused to confirm.

This article originally appeared on The National.
COMMENTS (16)
Comments are moderated and generally will be posted if they are on-topic and not abusive.
For more information, please see our Comments FAQ