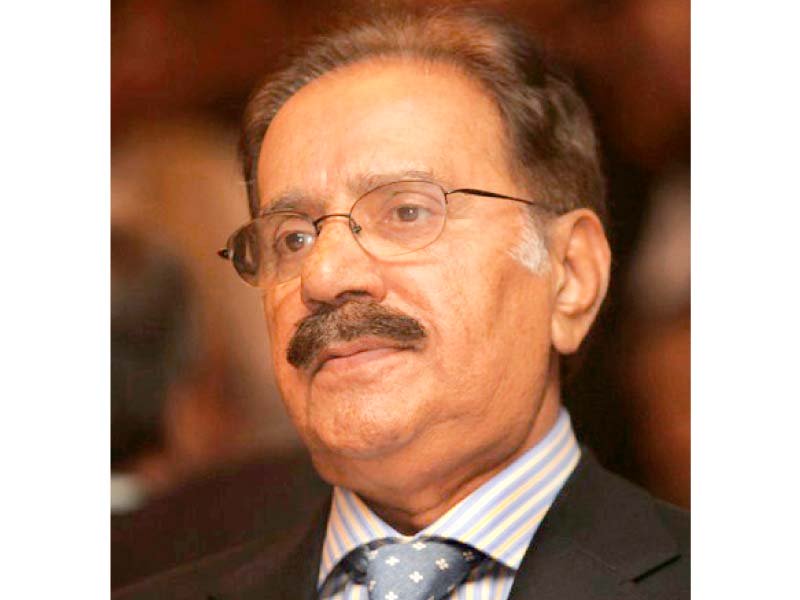 ---
HYDERABAD/ KARACHI:



Veteran politician and Pakistan Peoples Party (PPP) senior vice-chairman Makhdoom Muhammad Amin Faheem passed away in Karachi in the wee hours of Saturday at the age of 76. He is survived by two widows, seven sons and four daughters.




Faheem – also an MNA and head of the parliamentary party of Pakistan Peoples Party Parliamentarians (PPPP) – had been suffering from cancer and had recently received treatment from London and Dubai, from where he was shifted to Karachi in an air-ambulance last month.

His body was later shifted to his hometown of Hala in Matiari district and he was laid to rest in the evening in ancestral shrine of Makhdoom Nooh Sarwar – a 16th century mystic – beside the grave of his father, Makhdoom Talibul Moula.

Earlier, his funeral prayers were offered in which the entire leadership of the PPP including Chairman Bilawal Bhutto Zardari, Sindh Chief Minister Qaim Ali Shah and provincial ministers participated.

The politicians from the opposition parties, Pakistan Muslim League-Functional's Jam Madad Ali, Muttahida Qaumi Movement's Farooq Sattar and Zulfiqar Mirza were also present. The notables from Matiari and other districts and the local people were crammed in the limited space of the shrine to pay their final homage.

The roads and streets of the town were swarming with tens of thousands of e people – including Fahim's disciples from his Sarwari Jamaat, who had gathered from every nook and cranny of the province.

Markets closed

The markets in parts of Sanghar, Nawabshah, Umerkot and Tharparkar and the whole Matiari district also remained closed in mourning. In Matiari, it was declared a public holiday.

"We will always remember the services and sacrifices of Makhdoom Amin Faheem for the party. The space he has left behind is difficult to fill. He was an important leader of the PPP," said Bilawal in an official statement released to the media. The PPP also announced three days of mourning.

Prime Minister Nawaz Sharif also expressed deep grief and sorrow over Faheem's demise.  In a statement, Nawaz Sharif prayed for eternal peace and tranquility of the departed soul.

Leader of Opposition in the National Assembly, Khursheed Shah, recalled that he could not remember an instance when he saw Faheem resorting to vindictive actions against anyone. "He possessed a distinctive character," he remarked.

His other contemporaries at the burial remembered Fahim as a patient, tolerant, polite and refined individual with great political sagacity.

"He was the only politician in Pakistan who won the highest respect among his opponents. Notwithstanding the party policies, there was nothing about his individual character that anyone could oppose," said the PML-F's MPA Jam Madad Ali.

Fahim's eldest son, provincial minister Makhdoom Jameeluz Zaman, who is also a poet with at least seven books to his credit, is likely to succeed him as the 19th spiritual leader of the Sarwari Jamaat. The ceremony of dastarbandi will be held on the next day of soyem.

Published in The Express Tribune, November 22nd, 2015.
COMMENTS
Comments are moderated and generally will be posted if they are on-topic and not abusive.
For more information, please see our Comments FAQ