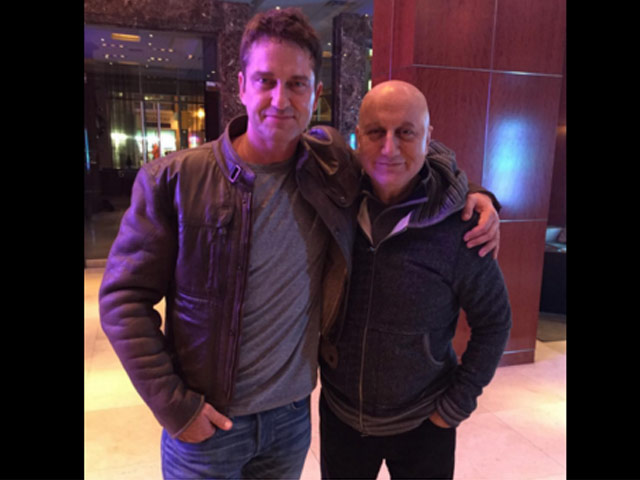 ---
Anupam Kher is not new to Hollywood, in fact, the veteran actor was part of the highly lauded Jennifer Lawrence starrer Silver Linings Playbook. This time, the Indian actor is co-starring alongside 300 actor Gerard Butler in The Headhunter's Calling.

According to Hindustan Times, Anupam has already started bonding with the Hollywood star on the shoot. "I have already started shooting for the film in Toronto, Canada. Gerard is a great actor, and working with him is so fun," he said.

Anupam Kher booed by audience at Tata Literature Festival

The 60-year-old was so excited that he even tweeted a picture with Gerard:

When I shoot for a foreign film, in my mind I am representing my country. I have no choice but to be Brilliant.:) pic.twitter.com/Bt9wRHV7Go

— Anupam Kher (@AnupamPKher) November 19, 2015


And expressed a desire to have aloo paratha:

Finally landed in Toronto. It is so chilly here. But they say it is supposed to be a warm day. Feel like having an Aloo parantha.:)

— Anupam Kher (@AnupamPKher) November 16, 2015


The storyline of the film revolves around a corporate headhunter who's focused more on his job than his family puts his career on hold when his child is diagnosed with cancer. Anupam will play the role of an Indian-American pediatric oncologist. The film is being directed by Mark Williams, and is written by Bill Dubuque, who has penned the Oscar nominated The Judge.

Nobody has the right to call our country intolerant: Anupam Kher

The Bollywood actor has his hands full, after his return from Canada, he will start shooting for Neeraj Pandey's film which is a biopic of cricketer Mahendra Singh Dhoni. Anupam will be playing the role of Dhoni's father, while the World Cup winning captain will be played by actor Sushant Singh Rajput.