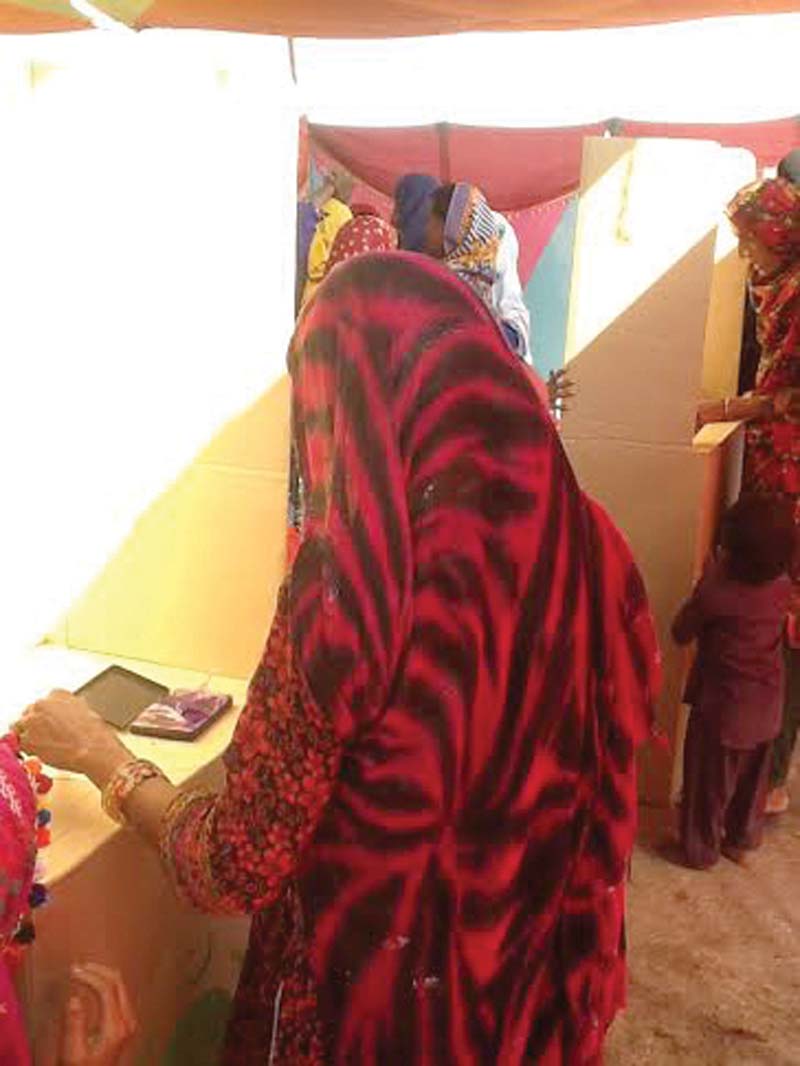 ---
BADIN: It was a beautiful day for democracy in Badin. For Jannat bibi, the day was made even more special by the birth of a son. She delivered the child in Civil Hospital, Badin. He was named Zulfiqar. Three hours later, she had recovered enough to go to the polling station to cast her vote. No surprise who she voted for.

Such was the feeling of urgency among the residents of Badin. They know the value of their vote, they say.

A sense of foreboding

Thursday dawned with a sense of foreboding in the city. The previous night had been abuzz with the Pakistan Peoples Party protesting the election commission's last-minute decision to change the location of some polling stations. Both sides had made threatening statements. Badin had slept uneasily - fearing bloodshed the next morning.

The events that unfurled on election day, however, took everyone by surprise. Voting at almost all the polling stations started promptly at 7:30am. By noon, over 60 per cent of the votes had already been cast at most polling stations.

Free and fair!

Nadeem Vighio, the presiding officer at polling station number 26 located in Government Boys Primary School, Agroville Colony, explained that his constituency had mixed voters, both from urban and rural populations.

"People in the rural areas wake up early which is why a lot of them came to vote in the morning," he said, adding that over 500 of the 913 voters at his poling station had already cast their vote. Vighio expected over 80 per cent of the eligible voters to cast their vote.

"The beauty of LG elections is that all the voters generally know the contestant. The latter personally urges the voters to cast their votes," he smiled, explained his theory behind the high voter turnout. Those who won't will most likely be ones who don't have original CNICs or some other obstacle, he claimed.

What was even more surprising was that there were no reports of discord or strife from almost any of the polling stations. Fateh Muhammad Gopang of Dr Mirza's group animatedly chatted with his opponent, Anwar Kumbhar, of the Pakistan Peoples Party, at the polling station. "This is neither the first election, nor will it be the last," said Kumbhar. "We may be contesting against each other this time but we live in the same community so there is no need for conflict," he claimed. Good sense had prevailed after all. "Free and fair," proclaimed Vighio from behind them, patting their backs with each hand.

Sense of duty, among others

There was another sentiment that was common in the people of Badin as they came out en masse to vote — a sense of duty. They stood for hours in the scorching sun to finally be able to stamp the ballot paper. Jalal, who was to cast his vote in Fatehabad UC sat on a brick against a wall, staring at the never-ending queue. He had been there for six hours and had yet to vote. "I can't stand in the queue because of the pain in my joints," he claimed but pledged to cast his vote come what may.

There were others too who had not necessarily come out of a sense of duty. Muhammad Yaqoob claimed he had been standing in line for an hour. When asked why he was taking the trouble, he laughed: "The candidate is serving tea and biscuits," he said excitedly.

Yet others used the long queues as an opportunity. Abdul Hakim was selling channa chaat outside a polling station. "First, we fill our stomach, then we fulfil our duty," he smiled, adding that he would cast his vote after the chaat was sold out.

For the media, Badin turned out to be an anti-climax. Their vans drove around in hordes, looking for "sensational breaking news". There were hardly any. Whatever the tension between Dr Mirza and the PPP had been, the people had spoken. They voted in peace. They voted for themselves.

Published in The Express Tribune, November 20th, 2015.
COMMENTS
Comments are moderated and generally will be posted if they are on-topic and not abusive.
For more information, please see our Comments FAQ