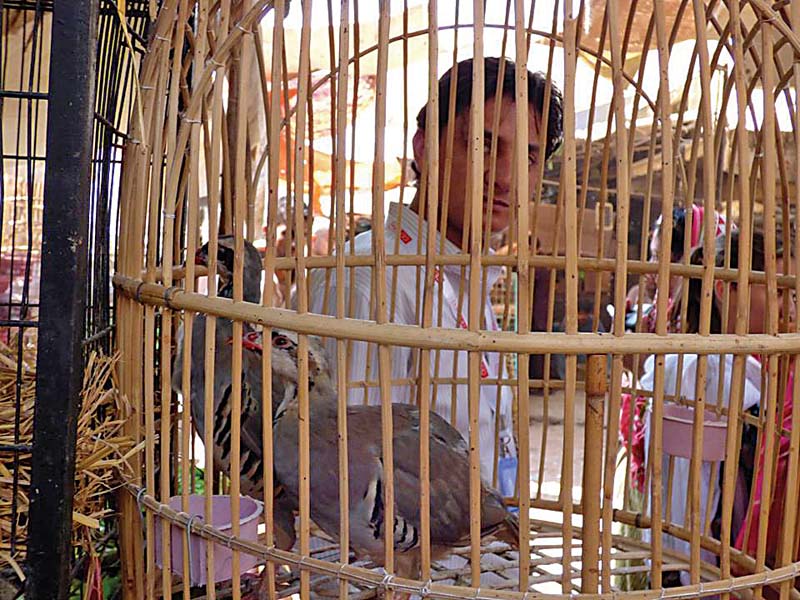 ---
KARACHI: Shah Muhammad holds up a partridge (known locally as chakor) and calls out to passers-by, "Han ajao. Le jao. [Come, get it]".

The 20-something bird vendor at Karachi's Empress Market has been in the business for three months selling chakors, pigeons, Australian parrots, love birds and sparrows, among others, but of late his prices have gone down and he's feeling the pinch.

"At least one chakor dies every day," he says. "I don't know if it's the weather or the environment but I lose Rs2,500 almost every other day." Muhammad gets his birds from his native town of Zhob, in Balochistan.

"As many as 30 of my birds as well as a Persian cat died during the heatwave in Ramazan," says Shamo, another vendor close by who has been in the business for the last two years. "It's all about fate."

After three years in chains, Kaavan walks free

Muhammad has not yet consulted any vets for his partridges but says he serves them the right amount of feed and water.




"Buhat nuqsaan hua. Rs60,000-70,000 ke jaanwar margaye [It was a great loss. Animals worth Rs60,000-70,000 died]," says another vendor, talking about the heatwave. With hundreds of chirping birds kept in small, congested cages in high temperatures, even the humans would be vulnerable, let alone the birds.

"Birds have a normal body temperature of 107 Fahrenheit (as opposed to 98 Fahrenheit of humans)," says Dr Abrar Pirzada, a veterinary surgeon. "They feel heat more than humans. And since in captivity they are separated from their natural habitat, their life span becomes shorter."

"I tell my clients, a pet from Empress Market is already half dead," adds Dr Pirzada, explaining that this is because they are not vaccinated and are kept in small, rusty cages without hygienic care.

"Empress Market is already full of germs," he says. "In summers, it is often because of dehydration [that the birds die], while in winter, they catch flu. More birds die in the winters."

Situated behind the section selling wholesale fruit, vegetables, meat and fish, the bird and animal section is indeed a sorry sight. Hundreds of small wired cages are strung along walls in shops full of birds and animals -- their misery all too apparent is in stark contrast with the owner's apathy. There is no air conditioning to regulate the temperature and often not even open windows for some ventilation.

Other than birds, even domestic pets, such as dogs and cats, are kept in cages.

Animal welfare bodies say life in captivity is often a death sentence for birds, who may suffer from malnutrition, improper environment, loneliness and the stress of confinement.




"Animals are sensitive beings with thoughts and feelings and are not ours to buy and sell like rice or tea cups," Bhuvaneshwari Gupta, the campaigns adviser of People for Ethical Treatment of Animals (PETA) in India, tells The Express Tribune in an exclusive email interview. "Rules to protect animals are often ignored and profit is the primary aim of pet shops, [and] never animal welfare."




Asif Sandeelo, a senior communication officer at the World Wildlife Fund-Pakistan (WWF-P), says animals need to be protected from direct sunlight and should have access to water at all times with enclosures big enough for them to be able to stretch their wings and move about.




"A 4x6x6 compartment with proper ventilation is a minimum requirement for pets," adds veterinary surgeon Dr Pirzada, who specialises in cat and dog treatment.

But the situation is quite the opposite. "Pet shops often sell ill and injured animals to the unsuspecting public, fail to provide needed veterinary care to animals, keep animals in filthy cages and often fail to provide animals with adequate food or water," says Gupta.

Islamabad-based Animal Care Association Pakistan has a similar view. "They don't care if an animal is dying, sick, annoyed, in a congested cage," the association's spokesperson told The Express Tribune via email. "All they see [is that] the animal is a money-making source and has no soul."

Wild goose chase: Animal welfare organisations still fighting to be taken seriously

According to WWF-P, the issue of the animals sold at Empress Market is not only confinement or 'maltreatment'; it is largely about illegal wildlife trade.

The Sindh Wildlife Department (SWD) frequently carries out raids at Empress Market where the illegal trade goes on under the very nose of authorities -- it has so far failed to clamp down on the trade completely.

"Just recently, a number of flamingos, falcons and Rhesus macaques were confiscated," says Sandeelo.

The wildlife department says in October alone, a fine worth Rs220,000 was imposed on vendors and suppliers involved in illegal trade.

For PETA, adopting a homeless animal from a shelter or street is the best alternative.

"Cruelty to animals is inherent in pet trade. PETA therefore discourages people from buying a bird or any animal from a pet shop," concludes Gupta. "Pet shops should be shut down altogether as long as wonderful pets are sitting homeless in all the shelters for lack of love and attention."

"From now onwards we will seal the shops of vendors involved in illegal wildlife trade," says Rasheed Khan, a raid party officer at the SWD.

Does the law in Pakistan protect animals?

Illegal wildlife trade is not restricted to Pakistan alone. Globally, this trade is the second major threat to wildlife after habitat destruction, while the UN Office on Drugs and Crime (UNODC) considers it to be an organised crime.

Pakistan, however, has laws in place that are supposed to protect animals from being mistreated:

• Section 3 of The Pakistan Prevention of Cruelty to Animals Act, 1890 says it is a punishable offence if any person "overdrives, beats, or otherwise treats any animal, which subjects it to unnecessary  pain or suffering". The penalty for a first time offense is a fine which may extend to Rs50 and/or imprisonment for a term which may extend to one month.

• Pakistan Penal Code 429 states: "Whoever commits mischief by killing, poisoning, maiming or rendering useless, any… animal of the value of fifty rupees or upwards, shall be punished with imprisonment of either description for a term which may extend to five years, or with fine, or with both."

Published in The Express Tribune, November 19th, 2015.
COMMENTS (8)
Comments are moderated and generally will be posted if they are on-topic and not abusive.
For more information, please see our Comments FAQ