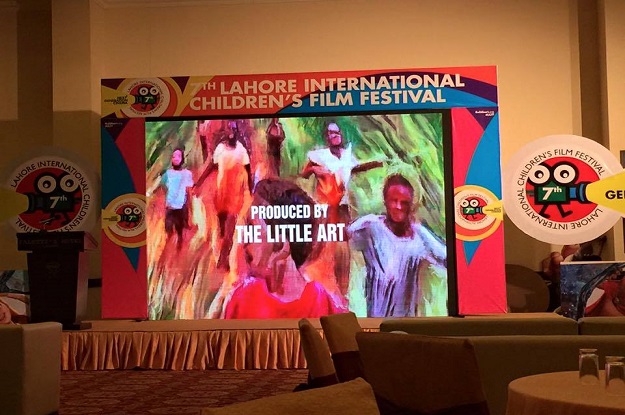 ---
LAHORE: The third day of the International Children's Festival continued on Wednesday amid much fanfare and excitement with children from various schools reaching Alhamra on The Mall and Cinepax looking forward to watching films and remaining away from their classrooms for a day.  

"We have the whole day off today," said Ali Raza, a student from Al Fajar Lyceum High School. This, he said was a good start to the festival and he hoped it would only get better from thereon.

After watching the movies he said his favourite had been Central Market, a short film. He said he had particularly enjoyed the presence of a goat in the movie. "The boy keeps trying to feed the goat but it refuses to eat," he said adding that he had found this amusing.  The film narrates the story of a young boy who works in the afternoons at a market looking for ways to make some quick money. He usually spends his time carrying goods for people until he comes across an opportunity to sell some goat milk.  Mahad Ali, another student from the same school, said he also liked the movie. "I did not understand where the goat went in the end," he said. The final scene of the 10-minute movie shows the young boy running on a street looking for the elusive goat.  Another short film that appealed to students was called Tiger Won't Come Today. The movie depicted a young girl who came up with creative excuses everyday for coming late to school. "Her excuses were so funny, one time she says she got picked up by an elephant on the way," Irha Arif, also a student of the same school said. Aliya Naseem, another student, said she agreed with the moral of the story. "We should not lie to shirk work," Naseem said.

Two Friends, another short film, also resonated with the children as it furthered the message of helping one's friends. "The four of us our best friends and we also help each other," student Iman Fatima said while standing next to her classmates. She said she would also act just as the boy had in the film and find a way of helping her friends.  The protagonist in the film helped fashion a crutch to enable his physically challenged friend to walk more easily. This also allowed both of them to play together.

"We really loved the film Best Friends Forever. It's about the friendship between a mother and daughter. It's so relevant to things youngsters experience with their parents," APS Azam Garrison student Neha Rafique said.

Children of all ages flocked to the festival with all screenings being completely booked. To date, nearly 12,600 children from dozens of schools have been to the festival.

Published in The Express Tribune, November 19th, 2015.