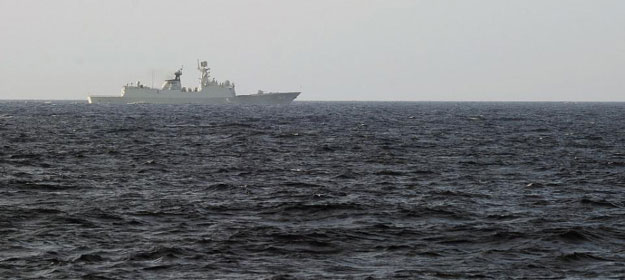 ---
BEIJING: Beijing said on Wednesday US President Barack Obama should not get involved in disputes in the South China Sea, after he demanded an end to artificial island building in the hotly contested region.

"The United States should stop playing up the South China Sea issue, stop heightening tensions in the South China Sea and stop complicating disputes in the South China Sea," Hong Lei, a foreign ministry spokesman, said at a regular press briefing in Beijing.

US to operate 'wherever' law allows in South China Sea

"No country has the right to point fingers at" China's construction activities, he added. The rebuke came after Obama met with Philippine President Benigno Aquino in Manila during the annual Asia-Pacific Economic Co-operation (APEC) gathering.

Beijing has turned a series of reefs and outcrops in disputed waters into artificial islands capable of hosting facilities with military purposes, alarming other claimants.

"We discussed the impact of China's land reclamation and construction activities on regional stability," Obama told reporters after meeting.

"We agree on the need for bold steps to lower tensions, including pledging to halt further reclamation, new construction, and militarisation of disputed areas in the South China Sea."

China slams US warship sail-by near artificial islands

APEC members the Philippines, Vietnam, Malaysia, Brunei and Taiwan have rival claims to parts of the sea, which is believed to sit atop vast oil and gas resources.

Beijing claims nearly all of the South China Sea, even waters approaching the coasts of its Asian neighbours.
COMMENTS
Comments are moderated and generally will be posted if they are on-topic and not abusive.
For more information, please see our Comments FAQ