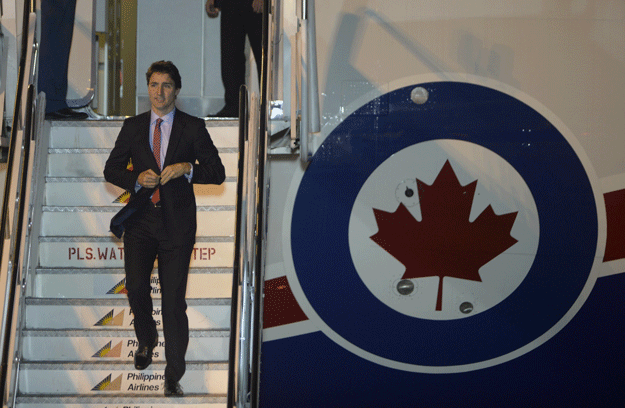 ---
OTTAWA, CANADA: Prime Minister Justin Trudeau said Tuesday he will go ahead with plans to bring 25,000 Syrian refugees to Canada by year's end, despite growing opposition over security concerns following the Paris attacks.

"We must respect our election promise... to safely host 25,000 refugees by January 1. We will make every effort to do so," Trudeau told reporters as he travelled to the Philippines for an APEC summit.

"It didn't take the tragedy in Paris for us to suddenly realize that security's important," he added, responding to concerns expressed this week by Canadian regional leaders.

Pressure rises on Canada to delay bringing in Syria refugees

Trudeau had pledged during the recent election campaign to resettle 25,000 refugees now living in camps in Jordan, Lebanon and Turkey by January 1. Since taking office he has mobilized several government ministries to meet the goal in such a short time.

But on Monday, a provincial premier and others raised concerns in the aftermath of attacks that killed 129 people in Paris last week, after French sources said a passport found near the body of one of the Stade de France suicide bombers may have belonged to a Syrian who registered as a refugee on the Greek island of Leros on October 3.

"If even a small number of individuals who wish to do harm to our country are able to enter Canada as a result of a rushed refugee resettlement process, the results could be devastating," Saskatchewan Premier Brad Wall said in a letter to Trudeau.

UNHCR urges states not to demonise refugees over Paris attacks

The premiers of Canada's Ontario and Quebec provinces, meanwhile, said they stood ready to welcome thousands of refugees. However, Quebec Immigration Minister Kathleen Weil sought to temper expectations.

"To be frank, I'm not sure it will be possible" to meet the January deadline, she said in Montreal.

"I think that people realize it'll take the time it'll take."

Her remarks were echoed by Quebec's public safety minister, Pierre Moreau, who said the goal was unrealistic and that only half of the 5,700 asylum seekers slotted to be resettled in the province (out of the 25,000 total) would be processed by December 18, and the rest after the Christmas holidays.
COMMENTS
Comments are moderated and generally will be posted if they are on-topic and not abusive.
For more information, please see our Comments FAQ