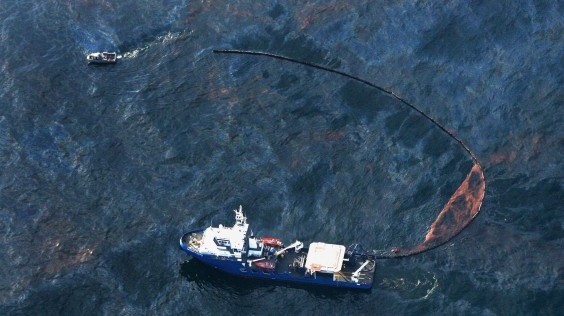 ---
HOUSTON: The US government intensified its response to a spreading oil spill in the Gulf of Mexico, mobilizing the military to try to avert an environmental disaster along the fragile coastline of Louisiana and three other Gulf states.

President Barack Obama pledged to "use every single available resource" and the US military was mobilising to help contain the spreading spill from the deepwater leak in the Gulf of Mexico.

It is pouring out crude oil at a rate of up to 5,000 barrels (210,000 gallons) a day, according to the National Oceanic and Atmospheric Administration -- five times more oil than previously estimated.

The rising threat has deepened fears of severe damage to fisheries, wildlife refuges and tourism in Louisiana, Mississippi, Alabama and Florida.

Louisiana Governor Bobby Jindal, whose state is still recovering from the ravages of Hurricane Katrina in 2005, warned the slick "threatens the state's natural resources." He declared a state of emergency and asked the Defence Department for funds to deploy up to 6,000 National Guard troops to help with the expected clean-up.

The spreading oil is about 3 miles (5 km) from a fragile wildlife preserve in marshland at the edge of the Mississippi Delta, which experts said would seriously damage the ecology of the area and could be very difficult to clean up.

Homeland Security Secretary Janet Neopolitano declared it "a spill of national significance," meaning that federal resources from other regions could be used to fight it.

Obama said the London-based energy giant BP Plc was ultimately responsible for the cost of the clean-up, which has pounded BP's share price and those of other companies involved in the project.

But the accident, which happened after a rig leased by BP exploded and sank last week, may also have ramifications for Obama's proposals, some of which are before Congress, to issue new offshore drilling permits.

The Navy said it was supplying the Coast Guard with inflatable booms and seven skimming systems to try to contain the oil.

In Mobile, Alabama, U.S. Coast Guard Captain Steve Poulin, said authorities were preparing for "shoreline impact," although it was not possible to predict exactly when.

"We have a booming strategy for coastal Mississippi, Alabama and the Florida Panhandle," Poulin said, adding that some 500,000 protection and containment booms were stockpiled along the coastline for deployment.

BP and the Coast Guard have mounted what the company called the largest oil spill containment operation in history, involving dozens of ships and aircraft.

BP admitted struggling to control the spill, which is 5,000 feet (1,525 metres) under the sea off Louisiana's coast, and appealed for help. It has asked the Pentagon for access to military imaging technology and remotely operated vehicles to try to help it plug the ruptured well.

Eleven workers are missing and presumed dead after the rig exploded 11 days ago.