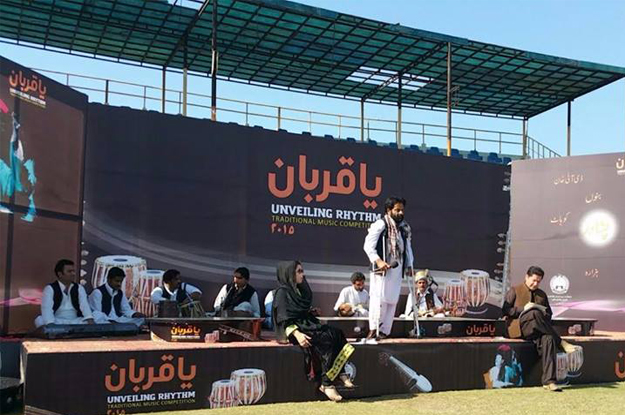 ---
PESHAWAR:



The Khyber-Pakhtunkhwa Directorate of Culture initiated Ya Qurban contest on Saturday to promote tappa - one of the oldest genre of Pashto literature at the divisional level. The contest began in Mardan and will also be held at Bannu, Peshawar, Malakand Division, DI Khan and Hazara Division. The aim is not only to encourage young people across the province to participate in their customs but also to create awareness about Pukhtun folk culture.




The aim

Talking to The Express Tribune, famous Pashto poet Laiq Zada Laiq said, "Tappa composed by women to encourage men in times of struggle and difficulties represents true sentiments of Pukhtun women."




He added tappa is also called mesray and while their performance styles differ, they form an integral part of the rich culture. Laiq said Ya Qurban contest will allow youth to perform tappa, exhibit their talent and ensure the tradition which is fading away is kept intact.

Laiq added the contest will also give young people the opportunity to create their own tappa so Pukhtun culture can be enriched and diversified. "Dr Salma Shaheen and Dawar Khan Dawar have done in-depth research on this genre of music and further additions will only increase this custom's value," he said.

Logistics of the event

K-P Directorate of Culture Director Mehmood Khan said the contest will take place in the native languages of the regions. "In areas such as Hazara, the contest will take place in Hindko language and Saraiki-speaking youth will compete in the contest by playing Saraiki folk songs," he said. The official added the awards have been named after famous singers from the area for example, in Bannu, Gulnar Begum Award was named after the late legendary Pashto singer, in Peshawar Division, Kishwar Sultan Award, in Hindko speaking areas, Inayat Ali Sultani Award, in Kohat, Syed Hasan Award, in DI Khan, Pathanay Khan Award for Saraiki and Zarsanga Ward for Pashto tappa and in Malakand Division, Mashooq Sultan Award will pay tributes to the respective singers.




The contest will be held on November 25 in DI Khan, November 29 in Kohat, December 6 in Malakand Division and December 10 in Peshawar. The first, second and third position holders will be awarded Rs0.1 million, Rs75,000 and Rs30,000 respectively at the divisional level. The grand finale will be held in Peshawar where first, second and third position holders will be awarded Rs0.3 million, Rs0.2  million and Rs0.1 million, respectively.

The backdrop

Tappa, a very unique form of folk poetry in Pukhtun culture, has become a true reflection of the entire Pukhtun society. According to historians, Pashto poetry, especially tappa, carried traces of Pukhtun civilisation and formed an inseparable part of Pukhtun tradition. Due to its brevity, tappa is also called landay. The longer forms such as badala, dastan and qissa are equally significant forms of oral traditions in Pashto literature and history.

Published in The Express Tribune, November 15th, 2015.