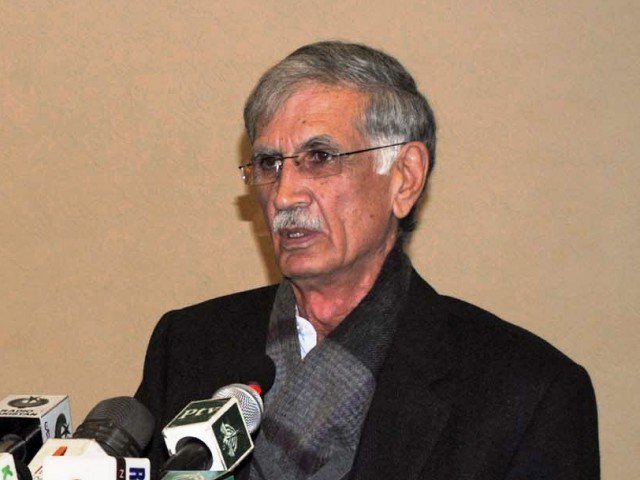 ---
PESHAWAR:



Not only has the Pakistan Tehreek-e-Insaf-led provincial government taken action against its own party members for misconduct and corruption, the leadership is also negotiating with leaders of other political parties to board Imran Khan's ship.




"Chief Minister Pervez Khattak met former senator and Pakistan Muslim League-Nawaz leader Salim Saifullah Khan in Islamabad last week," an insider privy to the development told The Express Tribune on Friday. "Khattak told the Saifullah brothers that he had the full backing of PTI Chairperson Imran Khan. If the family agreed, the matter could be taken up formally with Imran."

According to another insider, no logical conclusion was reached during the meeting. "Such decisions were made ahead of the general elections 2013," he said, referring to the reply of the PML-N leader.

Javed Saifullah is already part of PTI whereas Anwar Saifullah Khan and his son Senator Usman Saifullah are associated with Pakistan Peoples' Party. Former MNA and ex-provincial minister Humayun Saifullah is allied to PML-N.

Although Salim Saifullah is also associated with PML-N, he seems a misfit in the party as most of its affairs are in control of Adviser to the Prime Minister Amir Muqam and Sahibzada Sabir. It was reported that Salim did not reject the offer to join PTI outright.

Backup plans

The meeting between Salim and Khattak was a part of an elaborate effort by PTI to bring members of other political parties into its ambit. However, after the provincial leadership of the party was scrutinised for its conduct, there is an evident feeling of insecurity within the party's ranks.

At least three party leaders spoke on the issue; one expressed complete ignorance of such a meeting and two others said the PTI was in a constant flux and needed a firm footed stance.

PTI's provincial convener Fazal Mahmood Khan said CM Khattak was a political leader and authorised to meet anyone for the sake of political purposes. Mehmood said it was important to meet other political parties as PTI was a looking to expand.

"It's not just Saifullah, but we have contacted other political families as well," he added.

In reply to a question, Mahmood said there was no cure for fear. He was referring to the concerns of existing party members who were afraid manoeuvring was taking place behind their backs.

Present dynamics

Qaumi Watan Party recently rejoined PTI and its relationship with Jamaat-e-Islami has been a bumpy ride. Certain ministries were awarded to QWP by the PTI-led provincial government despite some resistance from some party members.

The ruling party has tried to increase its political power and the almost certain merger with the Tarakai family-led Awami Jamhoori Ittehad is an indicator of this fact.

Published in The Express Tribune, November 15th, 2015.
COMMENTS (2)
Comments are moderated and generally will be posted if they are on-topic and not abusive.
For more information, please see our Comments FAQ