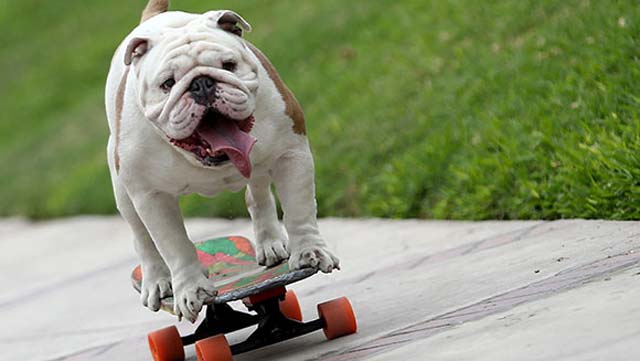 ---
A Bulldog in Peru has broken the Guinness World Record for the longest human tunnel traveled via a skateboard.

On Guinness World Records Day 2015, three-year-old Otto valiantly skated through the legs of 30 people, all facing the same direction and standing with their feet apart. This allowed the talented Otto to pass freely through the human tunnel without being led or touched.




A huge crowd was gathered to watch the cute canine's attempt to break the record.

Guinness World Records adjudicator Kristen Ott witnessed Otto's unique skill first-hand, and presented him with an official certificate once the record was verified and confirmed.




Otto's owners, Luciana Viale and Robert Rickards were inspired to get a bulldog after they saw the videos of former fastest dog on a skateboard, Tillman.

Like Tillman, Otto's array of talents are not limited to skateboarding as he is also able to surf and skimboard.

Luciana said she got the idea to attempt the human tunnel record when she saw Otto skateboarding towards her really fast and she had to open her legs for him to speed through without hitting her.

Watch Otto break the record here: