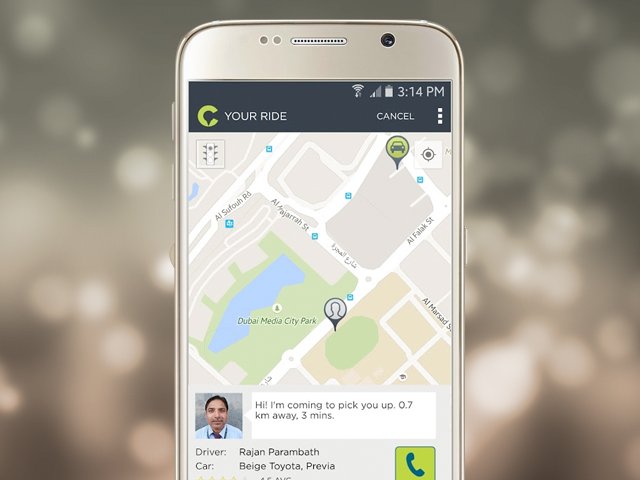 ---
Gulf-based on-demand cab service Careem has raised $60 million in its third round of financing, the company announced on Tuesday.

The funding will go towards "enhancing and deepening Careem's presence in new markets", the company's managing director in Pakistan Junaid Iqbal said, adding that the company plans on rolling out a major operation in Pakistan over the next year.

Uber set to launch operations in Pakistan

Careem is already operational in Lahore and will be launching in Karachi soon. The company serves 20 cities across the Arabian Gulf, North Africa and Pakistan.

With international on-demand cab service Uber set to launch operations in Pakistan, it will be interesting to see how the on-demand market takes shape in the coming months and years.

More importantly, how does Careem plan on tackling the San Francisco-based transportation giant?

Uber, which is reportedly worth $60 billion to $70 billion, is planning on raising another $1 billion in new venture capital, a move that, according to The New York Times, could make Uber the world's most valuable private start-up.

Pakistani entrepreneurs launch 'Uber for rickshaws'

But Iqbal says Careem has differentiated itself significantly and will continue to localise the service over the next 18 months, with a new feature introduced every month or two months. He wouldn't say what these features could be, but enumerated the ways Careem already differs from Uber. Or, more precisely, how it differs from Uber's international operations, since the US company hasn't launched operations in Pakistan.




In addition to using an app to request a ride, Careem users can simply call a number or use the company's website, something Iqbal says is an effort to localise the service. Careem also allows users to pay cash and has corporate invoicing options, and allows for bookings for a later time and repeat booking, e.g. if you travel the same route every day.

Uber drivers in Egypt to get anti-sexual harassment training

Carrying on with the localisation ethos, Iqbal adds that even the investors of the company come from the countries the service operates in, such as Saudi Arabia and the UAE. But he's caught off-guard when asked if there are Pakistani investors in the mix. However, he offers that the Abraaj Group, principle investor in the $60m funding round, has "a significant footprint in Pakistan".

Uber driver gets life sentence for rape in Indian capital

When asked if Careem would have tiered services, something along the lines of uberX or UberLUX, Uber's low-cost and luxury options respectively, Iqbal said there will be multiple options, but they will only be introduced once the Lahore and Karachi markets 'mature'. For now, there's only the "business" option being offered in Lahore, which is usually a Toyota Corolla sedan. This will also be the only option when the service first starts operating in Karachi.

Security

With Uber horror stories emerging from the US, India and elsewhere, there are legitimate concerns over security with other services based on that model. Since the drivers are contractors, not employees, the companies cannot easily be held responsible for the drivers' misconduct.

Uber invests big in China in face of fierce rival

Iqbal says Careem has verification protocols in place – verification of ID cards, driver's licence, residence and references – and that these protocols will be expanded. He adds that the service shares information about the driver and the vehicle with the user even before they get into the car, and that trip can be tracked online throughout the course of the journey. He draws parallels with the traditional taxi drivers, "Do we even know their name?"

Pakistani researcher develops software that can erase unwanted information from internet faster than Google

When asked if the company had similar safety protocols for drivers, who they call 'captains', Iqbal said the company was working on it. "For now we are ensuring that we hire people who have been in the business for a while," i.e. experienced drivers who can handle difficult situations that novices can't. He adds that there are weekly training sessions for drivers.

If it's part of anyone's job description to be optimistic about the service, it has to be Iqbal's. He says the Careem's business model, and by extension Uber's, is set to change the transport industry.

"We have leapfrogged the public transport system," he said. "You can summon a ride at the click of a button."

"The beauty of the model is that it can be scaled up quickly," he added. "As the service grows, it becomes more efficient."
COMMENTS
Comments are moderated and generally will be posted if they are on-topic and not abusive.
For more information, please see our Comments FAQ