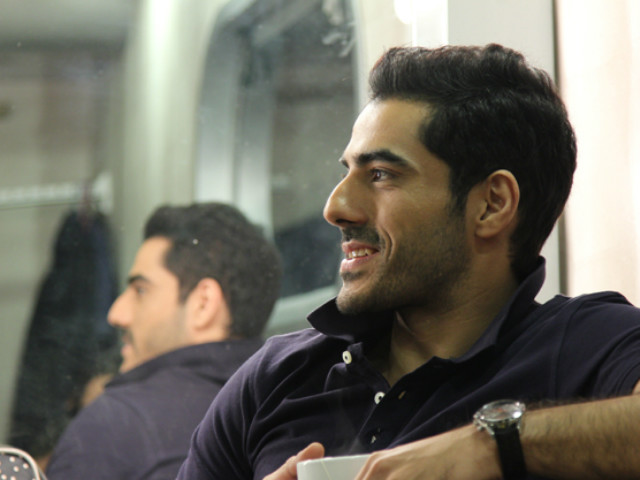 ---
KARACHI:



Adeel Husain is not your typical entertainment industry figure. He has been around for a while, making sporadic appearances on billboards and on the TV screen essaying intense, matter-of-fact men. Be it his incredible acting prowess or regal persona, there is something about this chiseled charmer that makes you weak in the knees.




Asim Raza's Ho Mann Jahaan is the talk of the town these days. The upcoming film's posters are doing the rounds, with Adeel visibly prominent amongst the star cast. Talking to The Express Tribune, Adeel says although his career choices have pivoted on instinct, he does analyse his options and the  film debut is a mix of both. "You have to let it settle in and weigh your choices. If there is something that I want to do, I do it ... Ho Mann Jahan is one such project," he says.

Ho Mann Jahaan cast works its magic in amazing Coke video

The Mata-e-Jaan star says his transition to the silver screen was quite organic. "I had been wanting to do films for a long time." Raza is a longtime collaborator of his hence the choice became even more easy. "We have both worked on various ad campaigns before." He goes on to sing praises for his director, stating that there are few people in Pakistan who have an eye for detail and are committed to their work. "I am lucky to have worked with him. He is so good with everything that he does," Adeel adds.




He might have nurtured a take-no-prisoners identity on TV, but Adeel is a different person on the sets. And Raza isn't his only confidant in the Ho Mann Jahan team. Adeel goes on to state that he, Mahira Khan and Sheheryar Munawar get along really well and that work was a mere breeze. "I've been friends with Mahira and also know Sheheryar from before but our bond began to strengthen the day Ho Mann Jahaan crossed our paths." Yet he maintains there are no favourites. "The project is a collective enterprise. The entire cast and crew have worked like a family." He states with so many fun people around, the shoot indeed was a rollercoaster ride but work was always his priority. "All work and no play will make the director unhappy," he quips.

'Ho Mann Jahaan' trailer unveiled

When it came to giving an insight on his character as a young musician and memorable moments behind the scenes, he cleverly chose not to irrigate the conversation. "Secrecy is part of the game and the unexpected is all that entertainment is about. I appreciate the curiosity surrounding the film which goes on to show how the audiences have begun to connect with it."




Adeel has reason to believe the film will join the league of box office blockbusters, although he admits success is not his primary motivation. "Yes it is important since films cost money. With all the effort that has been put into it, I would definitely want it to do well."

He maintains Ho Mann Jahaan helped him evolve as an actor, but the audience will be the judge. "Every work is different so when you delve into it, you become a changed person, hopefully for the better, and learn more about yourself," he says, adding the impact on him has been big.

It's a film for the youth, says Ho Mann Jahaan director Asim Raza

Interestingly, Adeel's onscreen characters and his real life persona are miles apart. "I never endorse the non-commercial label. In Pakistan, commercial means being totally out there. I have just tried to take care of my time [in the industry]." Commercial doesn't mean Adeel does not craft his way mindlessly. "If I act or direct, I will go back and study so that I can be better the next time."

He plans on venturing into film-making and wouldn't mind exploring opportunities in Bollywood. "I might cross the border at some point in the future but for work only. We are taking our chances and experimenting. It is a lot more exciting than worrying about what the future holds for me."

Published in The Express Tribune, November 11th, 2015.

Like Life & Style on Facebook, follow @ETLifeandStyle on Twitter for the latest in fashion, gossip and entertainment.