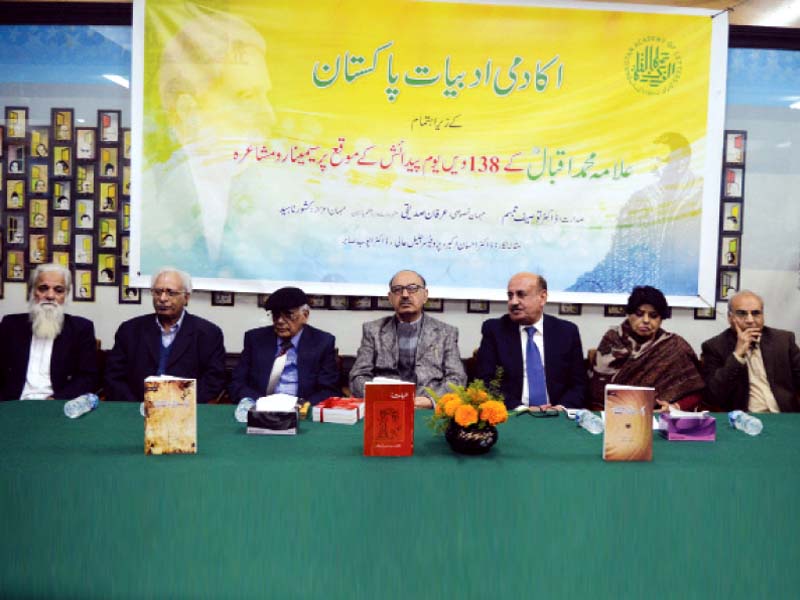 ---
ISLAMABAD: A number of events were held in Islamabad, Rawalpindi and the Azad Jammu and Kashmir on Monday to mark the 138th birth anniversary of Allama Muhammad Iqbal.

At a seminar at the Pakistan Academy of Letters (PAL), the academy's chairperson  Dr Muhammad Qasim Bughio said Iqbal's poetry was significant in the way that no other poet's work has remained at the centre of attention for literary research work for decades after it was first published.

Bughio said just like Ghalib influenced a major change in style of poetry during his era, Allama Iqbal also inspired his contemporaries and future poets to adopt an altogether different set of vocabulary and language. "Though basically Iqbal was a poet, his poetry revolved around an entirely new and independent line of thought," Bughio said.

According to poet and writer Professor Jalil Aali, Iqbal played a significant role in mainstreaming and realigning science with religion by going as far as talking about metaphysics and physics in his poetic works. He said that religious and political quarters' opposition to Iqbal was an indication of the novelty of his work.

According to Aali, Iqbal's poetry also worked as a catalyst just when an entire generation of the subcontinent was at the precipice of losing its spirit and self importance.

Prominent scholar of Iqbaliat Dr Ayub Sabir said as a philosopher and poet, Iqbal remained markedly different from regular poets and philosophers of his time, which is why his work remains unique in realms of philosophy, religion and poetry to date.

Poet Ehsan Akbar highlighted the impact of Iqbal's work in the Persian language. "Allama Iqbal's Farsi poems left a significant mark on the development of Persian poetry," he said.

Special Assistant to Prime Minister Irfan Siddiqui said Iqbal's poetry was about optimism perseverance, and self respect.

A 200-member delegation of the Allama Iqbal Open University (AIOU) comprising staff and academia visited mausoleum of Allama Iqbal in Lahore to lay a wreath and offer Fateha. Various schools and colleges in Islamabad arranged lectures and poetry competitions to mark the day.

Rawalpindi Arts Council arranged a tableau and debate contest titled "Iqbal and the modern age". Former MNA Shakeel Awan said to study and follow the teachings of Allama Iqbal was more important than celebrating a day. He said Iqbal's teachings are relevant today.

Urdu department of the International Islamic University (women campus) will hold a completion on "Kalam-e-Iqbal" on November 12, whereas Preston University will hold a seminar today (Tuesday).

Mirpur University of Science and Technology (MUST) held a seminar, which was attended by a large number of students, faculty and the public. All three radio stations in AJK — Mirpur, Muzaffarabad and Tararkhal — and AJK TV aired special programmes on Iqbal day.

Rawalpindi High Court Bar Association also arranged a seminar, where speakers also criticised the government decision to withdraw a public holiday on Iqbal's birth anniversary.

Lawyers at the high court and district courts boycotted the court proceedings in protest against the government decision to withdraw the public holiday.

Attendance at government schools and offices remained thin as most of the private schools remained closed.

Published in The Express Tribune, November 10th, 2015.