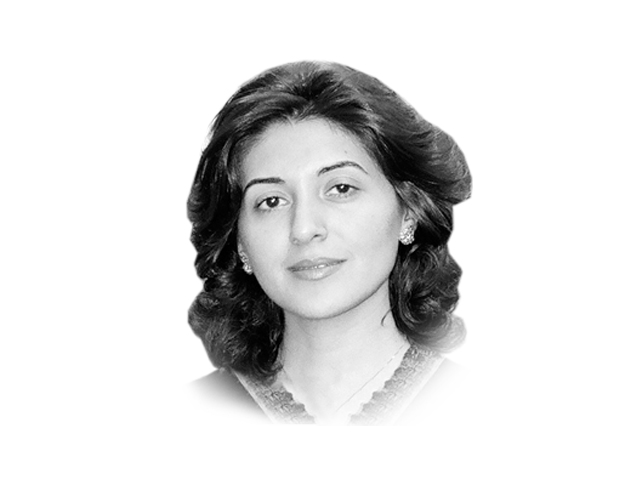 ---
When Imran married Reham in January of this year he was, arguably, at the pinnacle of his political career. Some optimistically believed he was the prime-minister-in-waiting and Imran basked in this glory. Add to this his glamorous cricketing past and thus there was natural interest from the public in this celebrity's private life. Both Imran and Reham, moreover, like media attention and did not appear perturbed by the constant coverage of their marriage ceremony. Shortly thereafter, they appeared on a show of a leading anchor, happily discussing their personal affairs and even lecturing on how to make a marriage work. Then they were featured on the cover of a lifestyle magazine known for celebrity gossip. Reham personally interviewed Imran for her own television show and asked him a number of questions about his decision to marry her. Unfortunately, one can't exactly be the darling of the media in good times and expect to be left alone in bad times.

Imran divorced Reham over text amid furious rows: report

Hence, the question asked of Imran by journalist Arif Yousafzai in Peshawar, hinting at Imran's inability to be a good judge of character both in his political and personal life was entirely legitimate. What was not justified was Imran's visceral reaction, trying to browbeat the reporter into silence. In developed democracies, such questions are regularly asked of politicians and particularly in the US, there are countless examples of men dropping out of the presidential race because of indiscretions in their personal lives. These indiscretions have no direct bearing on politics, but simply raise the issue of whether the man in question is trustworthy or possesses sound judgment. Yousafzai's question, therefore, was relevant. It may also surprise some in Pakistan to learn that although divorce is far more commonplace in the US than it is in Pakistan, with about 50 per cent of marriages ending in divorce there, Americans have nevertheless only ever elected one divorced president. Family values are an important topic in the US presidential race and though many Americans are divorced, they expect better from their leadership and hold them to a higher standard. Imran Khan's hasty marriage and equally hasty divorce, therefore, isn't an ordinary matter.

When Imran married Jemima Goldsmith, it was clear to many of us that this wasn't the wisest choice for an aspiring politician. Think for a moment if David Cameron or Barack Obama had chosen to marry a Pakistani Muslim girl. Would the electorate still have voted for them? Certainly not in the numbers required to make it to the top slot. Inter-cultural marriages are harder to work out as well but when Imran and Jemima split, Imran blamed his political opponents. This sounded bizarre as one thought of women like Sonia Gandhi or Ghinwa Bhutto who, despite losing husbands to politically-motivated assassinations, continued to live on in the lands their husbands called home.

Reports of Reham hitting Imran are absolute lies: PTI

Presently, the Pakistani media has overwhelmingly blamed Reham, absolving Imran of any responsibility for the divorce. This can't possibly be true and leaves Reham with no option but to give her side of the story. When Jemima and Imran divorced, the Pakistani media never maligned Jemima in the manner that they have Reham. And the British media was immediately sympathetic to Jemima, portraying her as the victim who had to endure power cuts and bouts of sickness living in an under-developed country like Pakistan. In Reham's case, however, the British media largely isn't interested, barring of course The Daily Mail which, living up to its racist reputation, has been fairly consistent in attacking Reham. She was vilified for wearing clothes and partaking in activities that would be fairly normal for most of The Mail's readers. The question that should be asked is why is Imran attracted to girls who like to party despite his insistence on iman, istikhara and Umrah in post-wedding interviews?

Both Reham and Jemima, despite their emancipated pasts, were equally guilty of overlooking Imran's poor stand on women's rights. In Jemima's case, she led a dual life. Covering her hair and walking demurely behind Imran in Pakistan, but defaulting to her Western socialite lifestyle in London, where photos of her with Hollywood friends were regularly spotted in the British press. Once married, Reham too opted for a conservative dress and continuously tried to project Imran as an infallible messiah. Neither Jemima nor Reham challenged Imran when he derided the 'Westernisation of women'. In Jemima's case, perhaps her Urdu wasn't proficient enough to know what he was saying but when Imran made the oft-repeated claim when Reham interviewed him in her show, I expected her to ask what exactly he meant by that or why he was then attracted to Westernised women?

Published in The Express Tribune, November 10th, 2015.

Like Opinion & Editorial on Facebook, follow @ETOpEd on Twitter to receive all updates on all our daily pieces.
COMMENTS (11)
Comments are moderated and generally will be posted if they are on-topic and not abusive.
For more information, please see our Comments FAQ