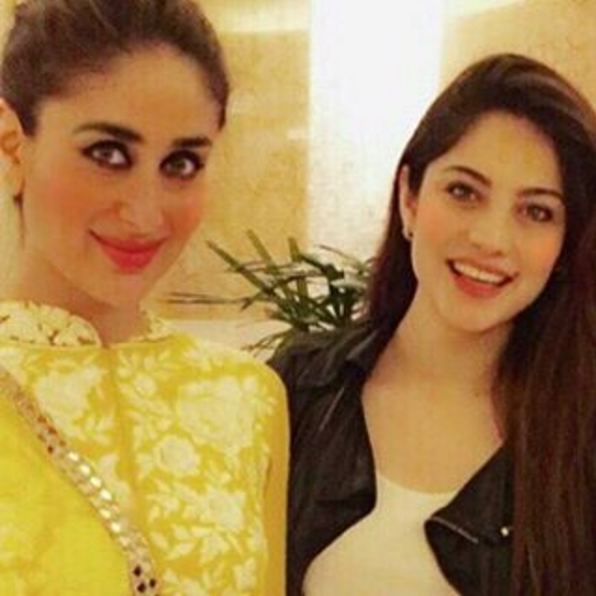 ---
The Kapoor-selfie frenzy is taking over social media! Last month we saw Pakistani celebs posing away with Ranbir Kapoor in what can only be described as a selfie-spree.

Ae Dil Hai Mushkil: Imran Abbas reaches set, clicks selfie with Ranbir

And now it's Pakistani actress Neelam Muneer's turn. While Neelum's photo isn't a selfie (strictly speaking) and does not feature the Bollywood hearththrob, her picture does include an equally famous Kapoor -- Kareena!

Neelam's starstruck moment took place in Abu Dhabi where Kareena had gone to promote a jewelry brand. While many fans of the B-town actress barely got a chance to meet her at the event,  our very own Neelam got lucky when she met the diva.

Talk of the town: Aisha Khan's selfies with Ranbir, Katrina go viral

The young starlet immediately took to Instagram to share the picture:
https://instagram.com/p/90hH_XvjAv/

Pakistani actress Ainy Jaffri takes selfie with Bollywood heartthrob!

Bebo also shared pictures from her recent tour where she looked absolutely breathtaking in a yellow traditional ensemble:
https://instagram.com/p/9tbb_MBPFJ/
https://instagram.com/p/9tbRShhPEp/

Picture of the day: Ranbir Kapoor takes selfie with Fawad Khan

Which is your favourite Kapoor selfie so far?

Here's a recap:

The first selfie; featuring Ranbir Kapoor and Imran Abbas:
https://instagram.com/p/76AL8NR6AW/

Followed by one with Fawad Khan:

Fawad Khan joins the cast of #AeDilHaiMushkil...an extremely "special" role in our film!! Amazing energy on set! pic.twitter.com/qtFXRpAz6r

— Karan Johar (@karanjohar) October 15, 2015


A chance meet with Aisha Khan at the mall:
https://instagram.com/p/8LvTiKDqCl/

The not just 'Ainy' selfie:
https://instagram.com/p/9jKSb4GCeg/
COMMENTS (12)
Comments are moderated and generally will be posted if they are on-topic and not abusive.
For more information, please see our Comments FAQ