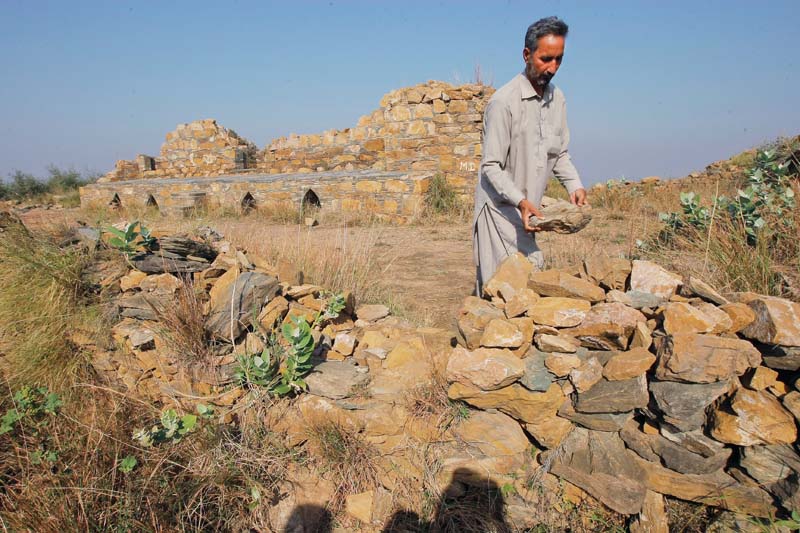 ---
MARDAN:



Like other historical sites and buildings in the province, the fifth century CE Buddhist monastery and circular stupa, Jamal Garhi, also took a jolt. And so it lost a wall in the 7.5 magnitude earthquake on October 26.




Numerous stones from the collapsed wall skidded through the monastery and monk quarters, creating significant damage throughout the structure. According to an employee, Mahmood Khan, "One of the ancient walls completely collapsed from the massive earthquake. We are currently busy collecting the scattered stones and placing them in their proper place."

Mardan's historical grandeur

An ancient Gandharan architecture, it is located 13 kilometres north of Mardan city and rises 122 metres above ground level. The monastery is situated a short distance from Shahbaz Garhi and UNESCO World Heritage site of Takht Bhai, all of which contribute to Mardan being one of the prime tourist attraction spots in Khyber-Pakhtunkhwa.




Archaeologists believed Jamal Garhi was established during the era of Gandhara civilisation when Buddhism flourished within the Indian subcontinent. According to Sir John Marshall, a famous British archaeologist, the monastery is one of the earliest sites built in the region. It was first discovered by Sir Alexander Cunningham in 1848 and excavations were carried out from 1852 to 1873. Buddhist and Kharosthi inscriptions were discovered during the work and portions were shifted to Peshawar Museum for display and preservation.

Recent excavations in 2012, funded by the government of Japan and UNESCO, discovered coins from 158 CE, sculpture plate, head of Buddha and traces of a lake and other findings.

The main stupa is surrounded by chapels. The site also contains a row of quarters used as residence for scholars and monks. Archaeologists suggest Jamal Garhi represents all parts of a Buddhist settlement with chapels and quarters surrounding the monastery.

Steps for restoration

K-P government deployed people to repair and protect Jamal Garhi, a key tourist attraction to this day, for historical preservation and revenue generation. However, more resources are still necessary to keep the structure intact. Mardan also saw damaging impacts of the earthquake on other historical sites, where many walls were given wooden supports to prevent it from collapse.

According to K-P Archaeology Director Dr Abdul Samad, "Many historical sites and museums were affected by the earthquake. We are still working through damage assessment." The official added funds will be allotted for rehabilitation and reconstruction of the all historical sites based on the assessments compiled by the department.

Aside from natural disasters, Jamal Garhi has undergone much manmade damage over the course of history. According to archaeologists, the monastery was plundered by relic hunters and smugglers for decades.

Published in The Express Tribune, November 9th, 2015.
COMMENTS (2)
Comments are moderated and generally will be posted if they are on-topic and not abusive.
For more information, please see our Comments FAQ