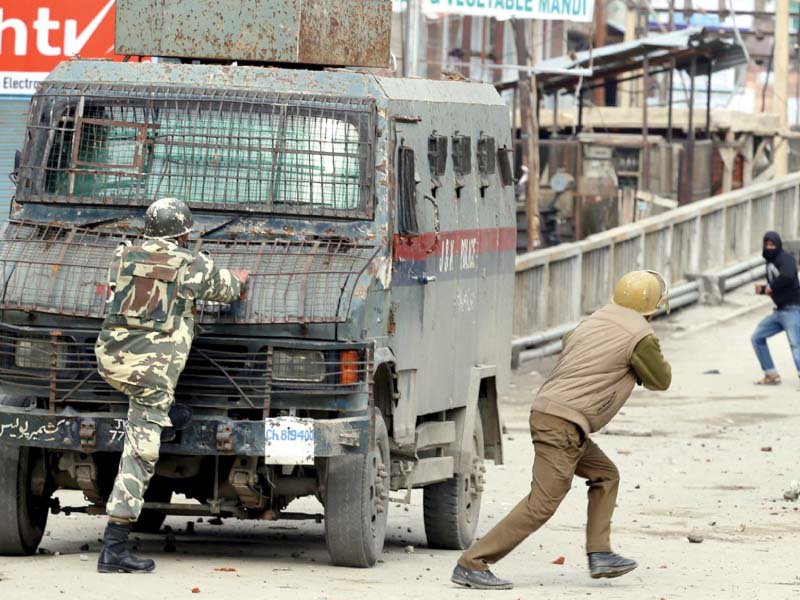 ---
MUZAFFARABAD/ SRINAGAR: Hours after Indian Prime Minister Narendra Modi visited Srinagar, the summer capital of Indian-administered Kashmir, a protester was killed during violent clashes with government forces.

The day was marred with minor clashes ahead of Modi's visit to the disputed Himalayan region, but the unrest intensified soon after the premier's rally was over and restrictions were eased. Kashmiri separatists opposed to Indian rule of the territory had called for a march to counter Modi's rally, but authorities imposed a near-lockdown to thwart it.

Authorities imposed stringent restrictions and suspended mobile internet services – common during high-profile visits to the volatile region. Hundreds of Kashmiri activists were arrested ahead of the visit, with leaders confined to their homes to prevent them from holding a protest march against Modi's rally.

Clashes broke out in Srinagar and in the northern town of Baramulla on Saturday afternoon, said a reporter at the scene.

In Azad Jammu & Kashmir, around 600 people took part in a rally in the capital Muzaffarabad to protest against Modi's visit, chanting anti-India slogans and pouring black ink on the Indian flag. Protesters carried placards and banners bearing slogans such as 'War will continue until freedom' and 'Go Modi Go Back'.

"Our fight will continue until each inch of Kashmir is freed from Indian occupation," Syed Salahuddin, who heads several militant groups, told the protesters, describing the Indian premier as the 'enemy of Muslims'.

A day earlier, security forces in Indian-administered Kashmir had detained nearly 400 separatists to prevent them from holding an anti-government protest march during Modi's visit. Hours before Modi's rally, in footage screened on national television, police detained an independent parliamentarian, Engineer Rashid, for protesting with black flags. Security was tight with paramilitary forces and sharpshooters deployed, while schools and colleges were shut. Internet services were also suspended hours before Modi arrived.

"Despite curfew, despite the siege of Srinagar, despite turning the city into a garrison, the puppet regime could not stop the people to come out and prove that the Kashmir issue is not an economic one but a political one," All Parties Hurriyat Conference leader Syed Ali Shah Geelani told reporters outside his residence, surrounded by police to prevent him from leaving.

In his 40-minute speech, Modi said he wished to take India's only Muslim-majority state back to its 'former glory'. He stressed the need to create jobs for young people, boost tourism and infrastructure, and close a gaping digital divide in the conflict-wracked region, where many do not have access to the internet.

"To fulfil these dreams, the Indian government is announcing an 800-billion-rupee (approximately $12 billion) package for Jammu and Kashmir. My heart wants this money to be spent to change your fortunes, to give strength to your youth, to build a modern Kashmir. Not only are Delhi's funds yours, but so is its heart."

However, Modi's announcement irked many. "PM Modi has made the same mistake of weighing the Kashmir issue in Rupees & Paise!!!!," Abdullah, the former chief minister of the state, said in a post on the micro-blogging website Twitter.

Geelani said Modi's $12b package was not equal to even one drop of blood of any of the martyrs of the ongoing struggle for the rights of the Kashmiris. "Even if the Indian government paves Kashmir's streets with gold, we shall never accept India's illegal rule in the region."

He added that the people had made it known that they did not want to live under Indian rule and that mere financial assistance would not break their resolve.

In Muzaffarabad, AJK Finance Minister Chaudhry Latif Akbar told the rally that Modi was a representative of extremists in India, adding that his rule could trigger a war in the region. He appealed to the global community to pressure the Indian government into resuming talks with Pakistan to find an amicable solution to the longstanding Kashmir dispute to ensure regional peace and security.

Salahuddin said Kashmiris had not rendered countless sacrifices in exchange for aid. He said the essence of the Kashmiris' struggle was to reach an honourable and durable solution to the dispute that has put the entire South Asia's peace at stake.

Published in The Express Tribune, November 8th, 2015.
COMMENTS
Comments are moderated and generally will be posted if they are on-topic and not abusive.
For more information, please see our Comments FAQ