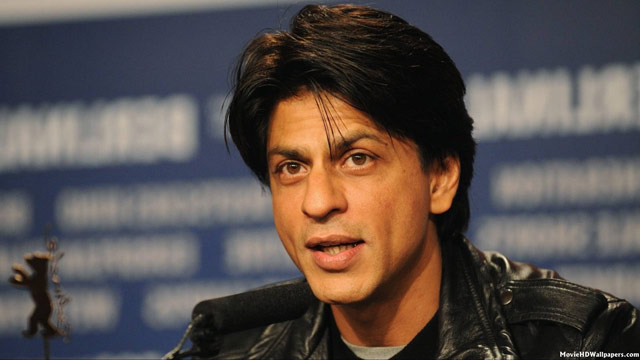 ---
Voicing an opinion in India has become an act of 'notoriety' -- those who do face severe backlash from certain quarters.

But ever since Hindu extremist organisation Shiv Sena pledged not to let Pakistani actors Fawad Khan and Mahira Khan promote their films in Maharashtra, a number of Bollywood celebrities have spoken up against rising intolerance in India.

Megastar Shah Rukh Khan too has finally broken silence on the matter. In an interview with NDTV, on his 50th birthday, King Khan said creative people should not be barred from working anywhere just because they come from a different country.

Shiv Sena targets Mahira, Fawad

When asked if he would stand up for his Raees co-star Mahira Khan's right to work in the Hindi film industry or cow down to Shiv Sena Shah Rukh said, "Well the fact that she in my film means that she should be... the word is not allowed. Whichever place starts questioning its creative people will face backlash."

He added, "It is so silly. What do creative people have to do with this? The politics of two countries can be handled by the politicians. How does this inter-culture exchange of artists between two countries [which was one country some years ago] change anything."




When questioned whether he worries about being attacked by Shiv Sena for standing up for Pakistani artists,  Shah Rukh said, "I have a weapon. I'm extremely loved by people, and if there is a stand against me, I know that enough people will love me back to stand by me."

Shiv Sena threats: Bollywood offers support to Fawad, Mahira

King Khan said sometimes he does hold back his thoughts and doesn't speak his mind not because he is scared but because it becomes a bit of a nuisance as his shoots might be disrupted which would affect a lot of people working with him.

He also spoke on the beef-related incidents that have been taking place in India. "Religion cannot be defined by our meat-eating habits. It is banal and silly. How is that respecting one religion and disrespecting the other?"

The Bollywood superstar added: "In my house, everyone is free to follow their religion. My kids were confused about whether they were Muslim or Hindu, I said 'why not Christian'?

"I do pooja when I have time, on Eid we offer prayers, Gauri can join us if she wants, her family comes and they stand there, they don't know how to pray but out of respect they stand with us," he explains.




Shah Rukh Khan can come to Pakistan if he does not feel safe in India: Hafiz Saeed

Shah Rukh said religion has never been a topic of debate in his house. "I'm not saying I'm extremely secular, but we've never questioned religion in my house. My wife is a Punjabi, my mother was from Hyderabad, my dad was from Pakistan, and we all live quite happily in our house, so why can't we do that in our country?"




The megastar has often had to face harsh comments, particularly when he said Pakistani players should be allowed to play the IPL. Commenting on the negative reaction to his statements he said, "It's degrading to have to say 'listen I am Indian'. How can you question my patriotism? There's nothing to question about it. It's been 50 years now, how can I be unpatriotic?"

"By what standard can I be unpatriotic? I'm an Indian movie star. I was born in India, I'm... Indian. To all saying go to Pakistan, and leave India I just say shut up."