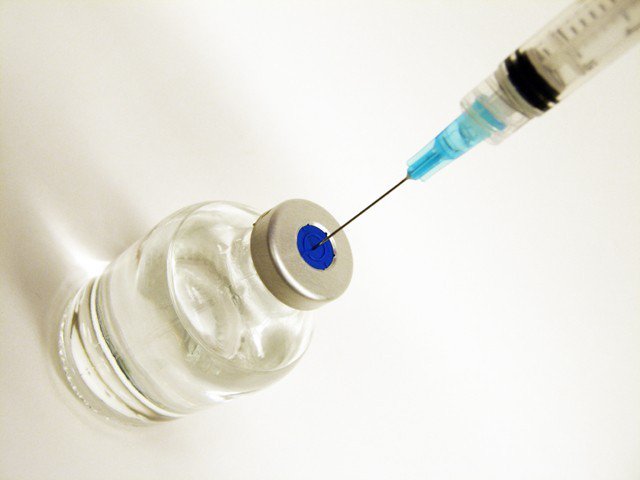 ---
MINGORA:



A five-month-old girl died while her twin brother lapsed into a coma reportedly after a medical technician injected them with measles vaccines in Kabal tehsil, Swat on Sunday.




Speaking to The Express Tribune, Mukamal Shah, an official of Deolai police station, said Ishtamal Khan, the father of the twins, filed a complaint regarding the incident.

"Ishtamal took his twins – Iqra Bibi and Tanveer Khan – to a basic health unit (BHU) in Taghma to get vaccinated against measles," he said. "However, Iqra Bibi died while Tanveer went into a coma."

According to Shah, Iqra Bibi and Tanveer were vaccinated against measles for the first time on August 19.

"Pir Muhammad, the medical technician at the BHU, had asked Ishtamal to bring the twins for a second vaccination on October 31," he said.

Shah said twins fell terribly ill on the way back home.

"Iqra died but Ishtamal managed to take Tanveer to a nearby paediatrician Akbar Hussain," he said. "Hussain referred the child to Saidu Teaching Hospital."

Question marks

Iqra Bibi's body was taken to BHU in Deolai for a post-mortem. "We have received a specimen of the injection used and will send it to a laboratory for further testing," an official of Deolai police said.

Pir Muhammad managed to escape. A case was registered.

In the past

Between May and June 2014, around five children died and 70 others fainted after being administered vaccines.

However, Health DG Dr Waheed Burki had attributed these reactions to "human errors". He insisted the deaths were not an outcome of the quality of measles vaccines.

Charsadda EPI In charge Dr Farhad had also denied the deaths were caused by the vaccine. He said most of the victims were already suffering from fever when they were vaccinated.

According to data provided by National Health Services, measles, mumps and rubella (MMR) vaccination is generally safe but can rarely trigger anaphylaxis - a severe allergic reaction. Deafness, coma, long-term seizure or permanent brain damage may surface in only one in a billion cases.

Published in The Express Tribune, November 2nd, 2015.