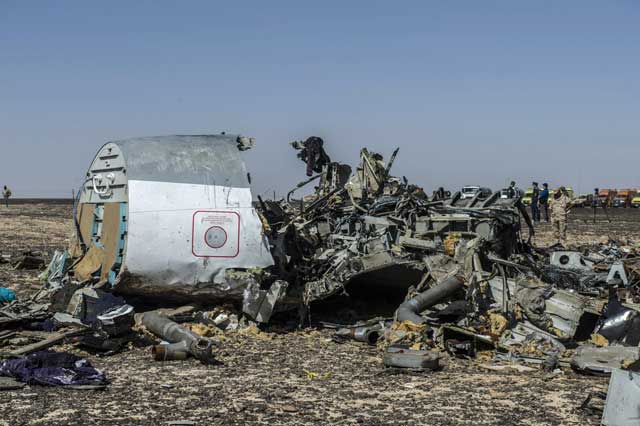 ---
PARIS: Aviation experts point to a range of scenarios to explain the crash on Saturday of a Russian jetliner in Egypt's Sinai peninsula, killing all 224 people on board.

International investigators have begun sifting through the wreckage and the Egyptian government says the plane's two "black box" flight recorders have been recovered.

A senior Russian official, Viktor Sorochenko, says the plane disintegrated "in the air".

Investigators probe deadly Russian plane crash in Egypt

The Egyptian branch of the Islamic State group says it downed the plane, but the Egyptian and Russian governments cast doubt on the claim.

Following is a question-and-answer examination of the main issues after interviews with aviation experts.

Jean-Paul Troadec, former director of France's civil aviation accident investigation office (BEA): "Having seen these photos, the hypothesis of an attack and that of an accident both remain open.

"The examination of the debris and the analysis of the flight recorders will allow us to quickly establish which of those hypotheses is the most plausible."

"If there was an attack, it could be shown by the way the wreckage is dispersed, but above all it's the debris -- if there are traces of explosives, and if the body of the plane has been (blown) open, it could show the possible presence of a bomb," Troadec said. "That is one hypothesis, but a technical problem cannot be ruled out either."

Islamic State claims responsibility for Russian plane crash in Egypt

Troadec also noted, "There are no small pieces of wreckage, suggesting it did not nosedive."

It could have been caused by a catastrophic technical failure, according to aviation expert Robert Galan.

"There are several things that can cause a major problem mid-flight and cause the plane to disintegrate before reaching the ground, without it being caused by an attack," he said. "These include engine that exploded or shifting cargo." But internal faults in aircraft very rarely lead to explosions, he said.

In the event of a blast, "the plane might have exploded in mid-air either due to a suicide bomber or a bomb on board, or even after a missile was fired at it," Galan said.

"If the plane was cruising at an altitude of 9,000 metres (29,500 feet), it is highly unlikely that the Islamic State group has the means to shoot it down because you would need advanced radar."

However, he added, "it is possible that, if the plane had had technical problems and descended, then IS could have shot it down, as they have medium-range weapons. But that's a bit contrived as a theory."
COMMENTS
Comments are moderated and generally will be posted if they are on-topic and not abusive.
For more information, please see our Comments FAQ