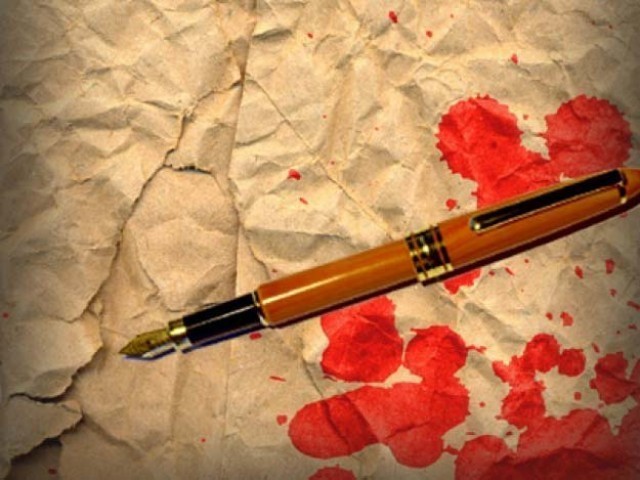 ---
Crimes against journalists, especially those that result in the tragic deaths of professionals have assumed a grim proportion worldwide. The gravity of the situation can be gauged from two glaring statistics: in the past decade, 700 journalists have been killed for reporting the news — one death every five days — and in nine out of 10 cases the killers go unpunished. Apprehending the seriousness of the menace, the UN General Assembly adopted in 2013 a resolution proclaiming November 2 as the International Day to End Impunity for Crimes against Journalists. The resolution urges member states to implement definite measures countering the present culture of impunity. Unesco, on its part, has drawn up an elaborate worldwide awareness programme to commemorate the day.




According to international press freedom and media safety watchdogs, Pakistan too has become one of the deadliest countries for journalists and ranks in the top 10 of the Impunity Index compiled by the Committee to Protect Journalists, of those countries that do not investigate and prosecute murders of journalists. According to research conducted by the Pakistan Press Foundation, a Pakistan-based NGO, since 2001, 71 journalists and media workers have lost their lives while pursuing their duties. Of these, 47 have been deliberately targeted and murdered in the line of duty, whereas others were killed while covering dangerous assignments. In only two cases have the murderers been convicted by the courts.

Pakistan has been a 'frontline state' for almost four decades, which has polarised society, destroyed people's sense of security and injected in the nation's psyche large doses of intolerance and extremism. The two wars in Afghanistan, non-state militant organisations' involvement in the freedom struggle going on across the Line of Control (LoC), the almost five-year-long country-wide insurgency by the Tehreek-e-Taliban Pakistan and the ongoing Operation Zarb-e-Azb since last year have all combined to make it increasingly difficult for media persons to work anywhere in the country in relative safety and security.

Journalists in Pakistan are not only targeted by militants, but also by political, religious, ethnic and other pressure groups, as well as law-enforcement agencies. In order to curb this murderous menace against journalists, not only cases of crimes against them need to be registered, but these should also be properly investigated and prosecuted against the perpetrators. Killers need to be apprehended and punished to effectively counter the culture of impunity. But this is asking for the moon itself in a country where the law and order machinery and the lower courts are in a shambles because of rampant corruption, incompetence and ineptitude of those who man these institutions. Perhaps, the situation could still be addressed adequately enough despite the ground realities by appointing at the federal and provincial levels a special prosecutor dedicated solely to investigate cases of violence against the media.

The media itself should take the lead in ensuring safety of media practitioners. Local, national and international print, electronic and online media should ensure long-term follow-up of cases of assault on media organisations and workers. Journalists should be provided with safety and first-aid trainings and guidance on how to report in a hostile environment. Journalists working in conflict areas should also be provided with guidance in recognising and dealing with stress and post-traumatic stress. Safety equipment, including bulletproof jackets and medical kits, should be given to journalists covering conflicts. Threats and attacks can be reduced to some extent by adopting a professional approach and impartial and unbiased reporting. Journalists, especially those in rural areas, should be imparted training on writing skills, language proficiency, editing and interviewing techniques to enhance their capabilities. Employers should provide journalists life and medical insurance and also compensation in case of death or injury related to their work. As Pakistani journalists are victims of circumstances that are both local and global in nature, the government should also compensate the families of journalists killed in the line of duty.

Published in The Express Tribune, November 2nd, 2015.

Like Opinion & Editorial on Facebook, follow @ETOpEd on Twitter to receive all updates on all our daily pieces.