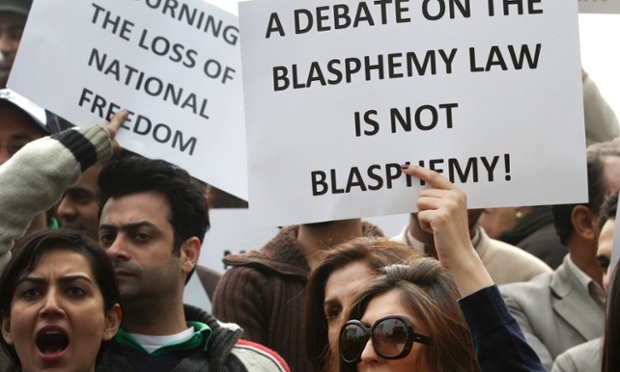 ---
ISLAMABAD:



Issuing a written order on the dismissal of Mumtaz Qadri's appeal against his death sentence, the country's top court Tuesday urged the state to ensure that no one is forced to endure an investigation or trial on the basis of false blasphemy allegations.




On October 6, a three-judge bench of the Supreme Court, headed by Justice Asif Saeed Khosa, had already scrapped a plea seeking revocation of Qadri's death sentence for killing the then Punjab governor Salmaan Taseer on January 4, 2011 over blasphemy allegations. The sentence was first awarded by an anti-terrorism court and then upheld by the Islamabad High Court before it was challenged in the apex court.

Penalties proposed for false accusers of blasphemy




Authoring the 39-page verdict on Tuesday, Justice Khosa said Qadri had murdered Taseer on the basis of nothing but hearsay. "It is an unfortunate fact which cannot be disputed that in many cases registered in respect of the offence of blasphemy, false allegations are levelled for extraneous purposes." He said that in the absence of adequate safeguards against abuse of the blasphemy law, people falsely accused of the offence suffer irrevocably.

The order said any call for reform in religion-related laws should be seen as a call for introducing safeguards against abuse of such laws, adding that it should not be interpreted as a call against the religious aspects of the offences covered by the laws.

"If the asserted religious motivation of the appellant (Qadri) ... is to be accepted as a valid mitigating circumstance in this case, then a door shall open for religious vigilantism which may deal a mortal blow to the rule of law in this country," read the order.

Stressing harmony: 'Blasphemy laws are to protect the innocent'

"No occasion has been found by us for reducing the appellant's sentence from death to life imprisonment for the offences of terrorism and murder committed by him. The usual wages for the crimes of the nature committed by the appellant is death, and in the circumstances of this case the appellant deserves no less."

On the subject of Qadri's claim that Taseer used to indulge in 'immoral activities', the court said: "...it was not just the alleged commission of blasphemy by Taseer which prompted the appellant to kill him, but there was some element of personal hatred for Taseer which too had played some part in propelling the appellant into action against him. Such mixture of personal hatred with the asserted religious motivation had surely diluted, if not polluted, the acclaimed purity of the appellant's purpose."

The court observed that commission of blasphemy is abhorrent and immoral besides being a manifestation of intolerance, but at the same time a false allegation regarding commission of such an offence is equally detestable besides being culpable.

Govt taking measures to prevent misuse of blasphemy law: President Mamnoon

The order said Qadri wanted to send a message or teach a lesson to everyone who dared to follow Taseer's suit. "We have entertained no manner of doubt that the action of the appellant and the intention, design or purpose behind such action fully attracted the definition of terrorism ... and, therefore, he was correctly and justifiably punished by the trial court ... for committing the offence of terrorism."

Published in The Express Tribune, October 28th, 2015.
COMMENTS (11)
Comments are moderated and generally will be posted if they are on-topic and not abusive.
For more information, please see our Comments FAQ