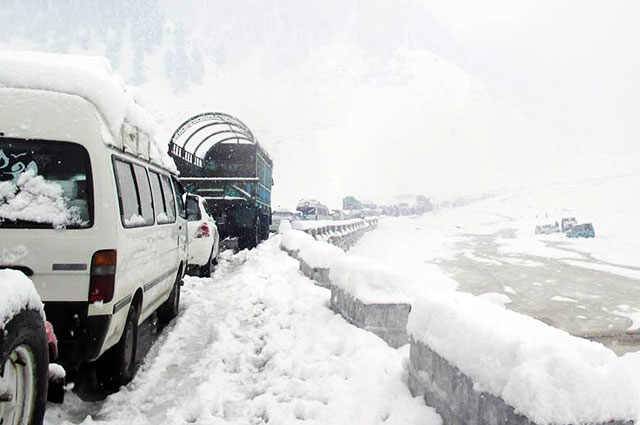 ---
ISLAMABAD/MANSEHRA: Pakistan Army engineers and troops rescued on Monday as many as 250 tourists who had been stranded in Naran Valley of Khyber-Pakhtunkhwa (K-P) as early snowfall blocked the main highway.

"After hectic efforts by army engineers, the road between Naran and Kaghan Valley was partially opened and a convoy of 70 stranded vehicles was moved from Naran to Kaghan," the military's media wing, Inter Services Public Relations (ISPR) said in a statement.

On the instructions of Army chief General Raheel Sharif, Pakistan Army rescue teams, including doctors, were moved to Naran Valley, it added.

Over 1,200 tourists stranded in Naran after snowfall

"Over 200 army personnel, including engineers and medics, are carrying out rescue operation in Naran," ISPR said. The statement added that eatables, bottles of fresh drinking water and 500 blankets have been distributed among stranded tourists by the Pakistan Army while as many as 200 vehicles have been evacuated from the area.




Further, two army helicopters are on standby to take part in the evacuation process waiting for weather clearance.

Further, another 100 tourists who were trapped on Batakundi-Naran Road have been rescued by the Frontier Works Organisation (FWO), which is also taking part in rescue activities in Naran Valley.

Meanwhile, at least 15 injured mine workers of Sunday's avalanche tragedy in Behsar are still stuck at a police post in Behsar as heavy snowfall has cut off the link road leading to Naran.




"With injured mine workers there are 20 policemen stranded at the police post and due to extreme weather conditions a helicopter could not reach the area for evacuation of the stranded policemen and injured mine workers, DPO Najibur Rehman told The Express Tribune.

"More than 1,200 people have so far been evacuated but still some 800 to 1,000 people are stranded there and rescue work is ongoing," Najeebur Rehman, the top police official in Mansehra district, said.




Blanketed: Two mine workers die in avalanche in Naran

According to Deputy Commissioner Mansehra Amir Khatak, with the help of military troops as many as 200 tourists have been shifted to Naran Valley. "Military personnel with the help of locals are busy clearing the snow covered road and are about two kilometres away from Naran Valley from Balakot side," he said.

A senior lawyer from Mansehra Shahnawaz Asim, who is among the stranded tourists told The Express Tribune that tourists are facing acute food shortage. "We have been living on boiled potatoes for the last 24 hours," he said.

People enjoying a long weekend for Ashura in the month of Muharram had travelled to the area, popular for its natural beauty, when they were caught off guard by the unprecedented snowfall.

Officials said the town of Naran was the worst affected, receiving more than three feet of snow since early Sunday. One coal miner was killed late Sunday when a mine collapsed due to a glacier break-off in Babusar area, some 40 kilometres away from Naran. Authorities rescued 15 other coal miners trapped by the collapse, the DPO Mansehra said.

Pakistan's climate change 'time bomb' is already ticking




The snowfall has also damaged the power lines and some small bridges. The DPO said the first priority had been to evacuate drivers stranded on the roads by the snow, and that authorities would now concentrate on extracting tourists trapped in their hotels.

The first snow does not usually hit the northern areas until early December, with officials saying this was the earliest recorded snowfall in 40 years.

PM directs for early evacuation of tourists stranded in Naran


Prime Minister Nawaz Sharif directed concerned authorities to evacuate stranded tourists in Naran Valley as early as possible. "The prime minister is personally overseeing the situation," Radio Pakistan quoted a government spokesperson as saying.

Further, the premier has asked the National Disaster Management Authority (NDMA) and all other relevant federal departments to coordinate with the K-P government for evacuation of stranded tourists.

According to reports, the NDMA will start the evacuation process as soon as the severe weather subsides as the authority has already arranged at least four helicopters to airlift the stranded tourists.

The National Highway Authority (NHA) has also started work on removing snow from the roads, reports added.