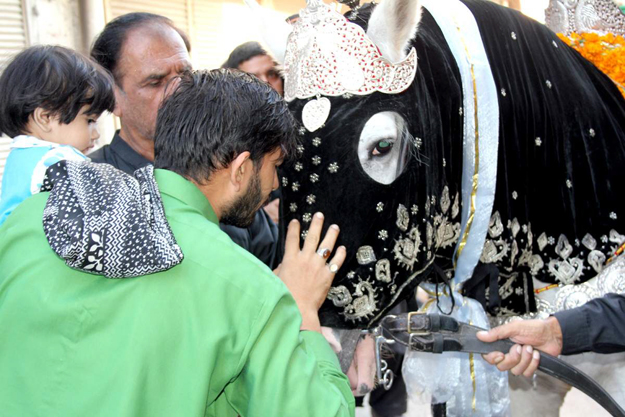 ---
HANGU/ KOHAT/ PESHAWAR/ BANNU/ DI KHAN: Ashura was observed with reverence, amid tight security, in the provincial capital. Saturday's Muharram processions were mainly concentrated in areas completely sealed off with the help of heavy deployment of security forces and law-enforcement agencies. 

Like in other parts of the country, the government suspended cellular service for the day across the province.

The processions started from imambargahs such as Mohallah Dhaki, Jahangirpura, Kochi Bazaar, Kachi Mohallah, Gor Gathri, Asia Gate, Namak Mandi, Kohati Bazaar and Yakatoot.  However, the biggest procession emerged from Agha Syed Alam Shah Jafri Imambargah in Qissa Khwani, ending peacefully after passing through traditional routes. Smaller processions also joined along the way.

Security and injuries

Security forces were positioned on the rooftops of imambargahs as well as inside them. Only people identified by the police and volunteers at imambargahs were allowed inside. Streets were blocked for traffic to allow the processions to pass safely.

Bilal Ahmad Faizi, spokesperson for Rescue 1122 told The Express Tribune that no major tragedy occurred during Ashura. Around 200 azadars or mourners, who were injured during mourning rituals, were provided treatment. Faizi added 80 of them were treated on the spot while the remaining were taken to hospitals.

He said 30 ambulances and 10 fire brigade vehicles participated in the operation round the clock. The emergency services were supervised by Rescue 1122 DG Asad Ali Khan. Rescue 1122 teams were on duty in Mardan, Peshawar and a few other places.

DI Khan and Tank

Muharram processions concluded peacefully in DI Khan and Tank districts. The Pakistan Army and security forces provided additional safety to mourners. The use of loud speakers was also banned.

Around 1,300 police personnel, two FC Platoons and other army officials were deployed to oversee nine imambargahs in Tank. All business centres remained closed in Tank City during Ashura.

In DI Khan three drone cameras were in use for aerial inspection of the processions.

Dera DIG Abdul Ghafur Afridi, who visited Kutli Imam where all processions culminated, told the media, "Ashura ended peacefully because of mutual cooperation between the army, police, civil society, Sunnis, Shias, and the public."

"We are conscious of the inconvenience caused to the public when the mobile services were suspended. However, it was done for safety," he added.

Kohat

Elite forces and heavy police contingents were deployed to sensitive areas in Kohat; the city was sealed for two days.

After being declared a high-risk region, sensitive areas in Kohat were monitored by a special bomb disposal unit as well as drone cameras. Internet services were also suspended to prevent any untoward incident. Public transportation was also suspended for the same reason.

Hangu

The main procession came out from the district's central imambargah in Pass Kalay and ended at the same location after passing through its conventional route.

All entrances to the main route were sealed with the help of barricade wires. All business activities were halted for the occasion. The processions were monitored through CCTV cameras while the security forces conducted aerial surveillance.

Bannu

Police personnel were deployed across Bannu. The Alam and Zuljinnah procession started from Imambargah Hussainia Mandiyan Gate.

DG Tahir Khan visited all locations to ensure adequate security. A curfew was set in place, resulting in closure of all businesses and markets.

Published in The Express Tribune, October 26th, 2015.