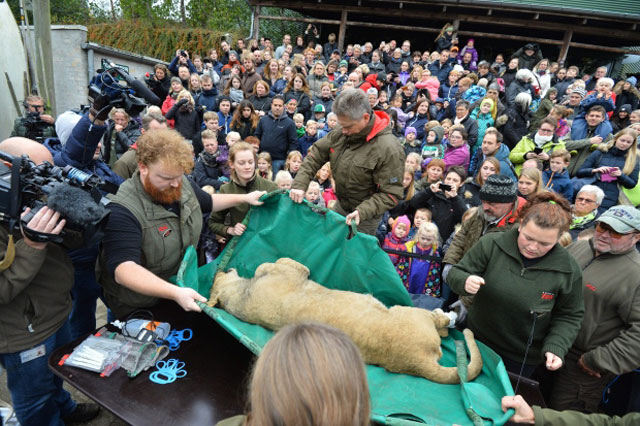 ---
Danish zoo staff dissected a nine-month-old lion cub in front of an audience of enthralled young children on Thursday, as a social media storm about the gruesome display raged outside.

Manhunt under way for gunman in Florida 'Zombicon' fest

Some of the youngsters held their noses as zookeepers methodically sliced up the cat, the year after the public dismemberment of a dead giraffe at another Danish zoo triggered an equally fierce debate.

"It smelled really bad but it was exciting to see what the lion looks like inside. It's cool that it was so similar to a human," said 11-year-old Sofie Beyer, visiting the zoo in Odense, Denmark's third largest town.

Staff gave a running commentary as they displayed the cub's stomach. They have regularly defended the display, saying it would educate children about animals and the realities of life and death.

"Butchers!" wrote one commenter on the zoo's Facebook page, which included details of the dissection.

"Exposing young people to animal dissection as 'science' can foster a callousness toward animals later on in life. Many countries are watching what you are doing with disgust ... You need to stop," wrote another.

A third member of the public noted that the only children "who were traumatised were the ones who did not get seats for the event."

Most of the complaints were written in English while the supportive posts tended to be in Danish - suggesting there was less squeamishness in a country with a thriving agrarian sector, and where pigs outnumber humans two-to-one.

The cub was killed in February this year because her genes were already common in Europe, so might have weakened the gene pool if she had gone on to breed. The zoo declined to say whether she had been given a name.

I never sprayed Putin, says Hamilton

'Marius', an 18-month-old giraffe who was also slaughtered to prevent in-breeding, was dissected in Copenhagen's zoo last year. Staff received death threats.
COMMENTS
Comments are moderated and generally will be posted if they are on-topic and not abusive.
For more information, please see our Comments FAQ