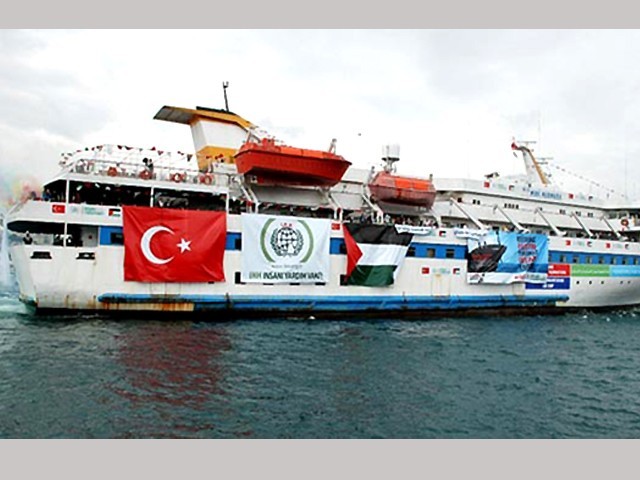 ---
LOS ANGELES: The family of a US citizen who was killed during a raid by Israeli troops in 2010 on a Gaza-bound flotilla are suing former Israeli prime minister Ehud Barak, claiming unlawful death and torture.

Attorneys representing the Turkish family of Furkan Dogan told AFP that Barak was served papers in the civil case late Tuesday after giving a speech at an event near Los Angeles.

Activists set sail for Gaza aboard 'Freedom Flotilla'

Dogan, a US citizen born in New York, was among nine people killed in the raid on six Turkish boats that had been attempting to break Israel's blockade of Gaza.

Israel at the time said that it had sent repeated warnings to the flotilla before launching the raid.

The incident soured once-close relations between Israel and Turkey.
"On board the Mavi Marmara, Israeli forces extinguished the life of a 19-year-old boy holding a video camera," said Hakan Camuz, a representative of Dogan's family.

"He was shot five times. The last shot was to his head at point blank range. He deserves justice."

A UN panel that reviewed the case determined that the raid was "excessive and unreasonable" but also laid blame on Turkey.

The human rights lawyers that filed the suit against Barak have also been pushing the Hague-based International Criminal Court to investigate the incident.

Palestinian leader convinced Hitler to exterminate Jews: Israeli PM

"From Nuremberg and Tokyo to the Balkans, Rwanda and Sierra Leone, there is a tradition around the world of holding military leaders accountable for their crimes against civilians," said attorney Rodney Dixon.

"Casting that tradition aside mocks justice and gives political and military leaders free reign to wield violence indiscriminately."

Barak or members of his entourage could not be immediately reached for comment.
COMMENTS
Comments are moderated and generally will be posted if they are on-topic and not abusive.
For more information, please see our Comments FAQ