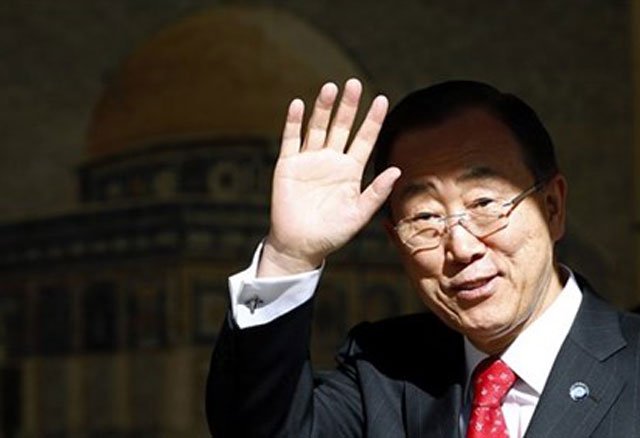 ---
JERUSALEM: UN Secretary-General Ban Ki-moon was due to begin a snap visit on Tuesday to try to stem Israeli-Palestinian violence as Israel issued fresh assurances addressing Muslim fears of Jewish encroachment at a mosque compound at the centre of the conflict.

In the latest incident, a Palestinian stabbed and wounded an Israeli officer in the occupied West Bank before other troops shot the assailant, the military said. The Palestinian Health Ministry said he was killed.

Israeli officials said Ban, whose trip was announced in Israel only hours before his expected arrival, would meet Prime Minister Benjamin Netanyahu later in the day in Jerusalem.

The UN chief will see Palestinian President Mahmoud Abbas in the West Bank city of Ramallah on Wednesday, Palestinian officials said.

Four Palestinians killed in anti-Israeli knife attacks

US Secretary of State John Kerry, who is to hold talks with Netanyahu in Germany during the prime minister's visit there on Wednesday and Thursday, has said Israeli and Palestinian leaders need to clarify the status of Jerusalem's al-Aqsa mosque compound to held stem the bloodshed.

Kerry planned to meet Abbas and Jordan's King Abdullah, likely in Amman, later in the week.

The violence has been stoked partly by Palestinians' anger at what they see as increased Jewish visits to the Jerusalem holy site, also revered in Judaism as the location of two destroyed biblical temples.

"Israel has not and will not change the status quo. That is one huge lie," Netanyahu said in a speech to international Jewish leaders meeting in Jerusalem on Tuesday.

Under long-standing arrangements, Islamic religious authorities administer al-Aqsa. Israel allows Jews to visit but not pray in the compound in Jerusalem's walled Old City that it captured along with other parts of East Jerusalem and the West Bank in a 1967 war.

Deadly attacks

Eight Israelis have been killed in stabbings and shootings by Palestinian and Arab-Israeli attackers in Israel, Jerusalem and the West Bank. An Eritrean, mistaken as an assailant during an Arab gunman's assault, also died, after being shot by a security guard and kicked by angry crowd.

Israeli security forces have killed at least 42 Palestinians, including 20 assailants and demonstrators, one of whom, police said, fired a gun at them.

In an interview published on Tuesday in the pro-Netanyahu newspaper Israel Hayom, the Israeli leader, who has publicly cautioned there was no "quick fix" to the worst Palestinian street violence in years, voiced confidence the conflict would not widen.

"Proper management has ensured that there will not be a mass conflagration in the name of religious war, including a flare-up in terms of missiles from Gaza and Lebanon," said Netanyahu, who has been accused by some of his cabinet ministers of not doing enough to keep Israelis safe.

Hundreds of Israeli troops have deployed along with police in Israeli cities. But a decade after the end of the last Palestinian uprising, the violence has unsettled many Israelis.

The usually busy downtown streets of Jerusalem were largely empty of shoppers but indoor malls, which have security guards at entrances, were still bustling.

Early on Tuesday, Israeli forces detained Hassan Youssef, a top leader of the Hamas in the West Bank.

Eritrean mistaken for gunman killed in Israeli bus station attack

"Youssef has been actively instigating and inciting terrorism and publicly encouraging and praising the execution of attacks against Israelis," a statement issued by the military said.

Youssef has been arrested previously by Israel on a number of occasions and was last released earlier this year. A statement issued by Hamas officials said Israel should expect "more revenge operations in defence of al-Aqsa".

Also on Tuesday, in the southern West Bank town of Hebron, Israeli forces destroyed an apartment that belonged to a Palestinian militant who killed an Israeli near a West Bank settlement last year.

Television footage showed that the interior of the apartment of militant Maher Hashlamoun, who died after the attack in which he stabbed and killed Dalia Lemkus near the settlement of Alon Shvut last November, was destroyed and sealed.
COMMENTS
Comments are moderated and generally will be posted if they are on-topic and not abusive.
For more information, please see our Comments FAQ