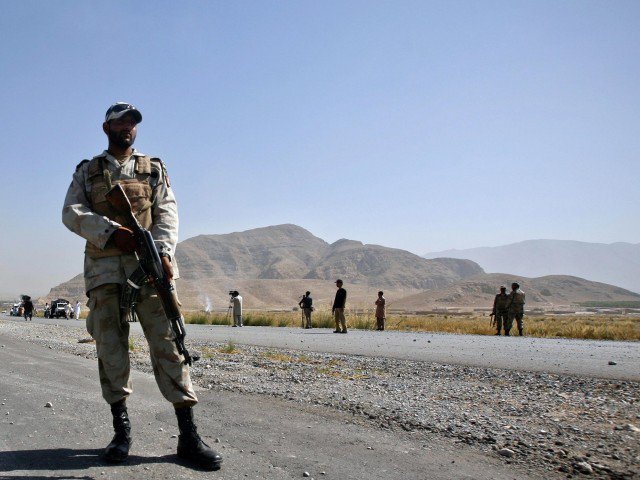 ---
QUETTA:



As many as nine people were killed in separate incidents in Balochistan on Monday, including three suspected militants and two security officials.




The Frontier Corps in Balochistan said that they had carried out a search operation together with intelligence agencies in the Tasp area of Panjgur district on Monday. During the search, three suspected militants belonging to the banned Baloch Republican Army (BRA) were killed in an exchange of fire.

An FC spokesperson said that they had recovered a light machinegun, two sub-machineguns, two kilogrammes of explosives, a hand grenade, land mines, four motorcycles and a car during the search.

Two security men killed

Two security officials were killed and six others were injured when their convoy was targeted with a homemade bomb.

According to security sources, the Frontier Corps (FC) convoy was passing through Harnai when an improvised explosive device (IED) exploded. The blast killed Sepoy Sajjad and Naik Noorul Amin while it injured Momeen, Nadeem, Shareen, Haroon, Wasim and Tahir. Their vehicle was destroyed in the attack.

Security personnel and local administration officials rushed to the spot soon after the explosion and cordoned off the area.

The dead and injured were shifted to the district headquarters hospital for treatment.

No group had claimed responsibility for the attack till this report was filed.

Two sisters gunned down

Two sisters were killed and two others sustained injuries after a group of armed men stormed their house in the Manjo Shori area of Nasirabad district on Monday.

Unknown armed men barged into Ghulam Jan's house and shot dead Banari, 10, and Rabia Bibi, 9. The attack left their sisters Aisha, 8, and Razia 3, injured.

The assailants managed to escape after the attack.

The deceased and the injured were shifted to the district headquarters hospital for treatment.

"The family were attacked apparently due to a past enmity," a police official said, adding that a case has been registered against unknown assailants.

Two bodies found

The bullet riddled bodies of two men were found dumped in Machrani area of Barkhan District on Monday.




Bahadur Shah, an officer at the Barkhan Police Station, said that they had been informed about the bodies by a passer-by.

"The men were 30 and 50 years of age and they had each received more than 10 bullets," sources at the civil hospital in Barkhan said, adding that they had yet to identify the victims.

Power pylons blown up

At least four power pylons were blown up on Monday evening in the Aab-e-Gum area near Mach town, around 70 kilometres from the provincial capital.

Muhammad Afzal, a spokesperson for the Quetta Electric Supply Corporation (QESCO), said that unknown militants had targeted two transmission pylons of 220 kilo-Volts (KV) and two pylons of 132 KV. The attack disrupted power supply to five districts of Balochistan.

"Power supply has been restored to seven districts using an alternative line," the QESCO spokesperson said, adding that repairs will start as soon as they get security clearance from the provincial government.

No group has claimed responsibility for the attack till this report was filed.

Published in The Express Tribune, October 20th, 2015.