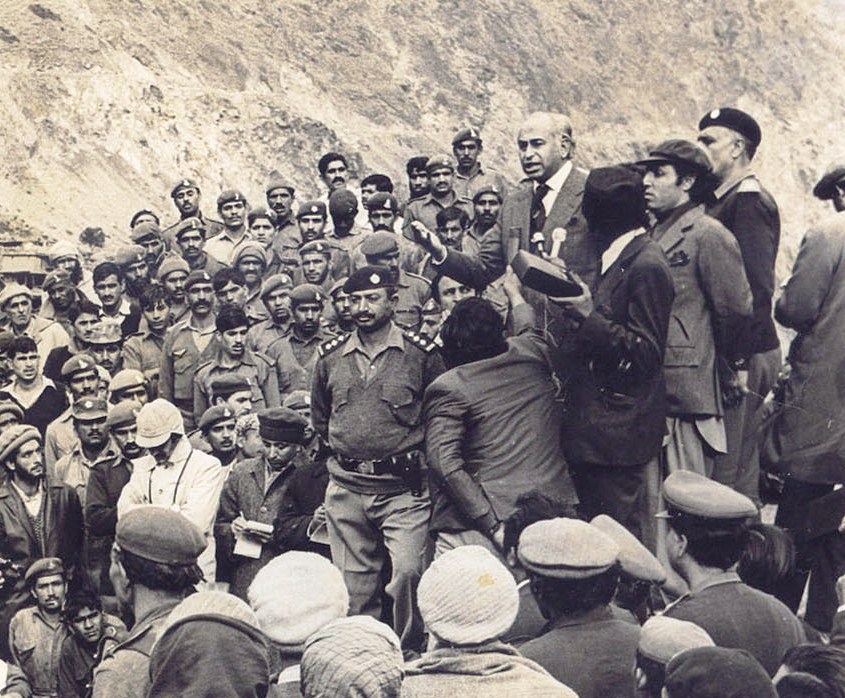 ---
ISLAMABAD: Zulfikar Ali Bhutto (ZAB) was arguably the most popular democratic leader in Pakistan's history. He emerged as an iconoclast after he defied his former boss, General Ayub Khan, in the aftermath of the Tashkent Declaration that ended the 1965 war between Pakistan and India.

Subsequently, ZAB formed his own Pakistan Peoples Party with the help of like-minded people on November 30, 1967. He charmed peasants and labourers, who form the bulk of Pakistan's population, with his charismatic personality and Leftist ideology that promised 'roti, kapra aur makan' (food, clothing and shelter) to all.

Pakistan still suffering from aftermath of Bhutto's execution: Imran Khan

ZAB led his party in the 1970 general elections which emerged as the single largest party in what was then called West Pakistan. However, the party gave up its Leftist ideology and many of its co-founders quit before the party ran for re-election in 1977.

Aftab Ahmed Khan Sherpao, one of the ardent believers in Bhutto-ism, believes internal and external factors had led to the martial law of Gen Ziaul Haq, then army chief, and subsequent hanging of ZAB in 1979. Interestingly, Sherpao, a former two-time chief minister of then NWFP from PPP's platform, later served as federal interior minister, under another military ruler Gen Pervez Musharraf, in a coalition government led by the PML-Q.

Zulfiqar Ali Bhutto Jr aims to bring art out of 'marginalised spaces'

Sitting in his drawing room lavishly decorated with his eclectic collection of Garzers – the colourful bowels of Central Asian origin, and historic pictures of pre-Partition British expeditions in India's northwest, Sherpao recalls the political events after the fall of Gen Ayub Khan.




Sherpao's own entry into politics was fortuitous. He was introduced in politics by ZAB after the assassination of his elder brother Hayat Khan Sherpao - one of the close aides of ZAB, in a bomb attack in Peshawar in 1975.

I refuse to observe Zulfikar Ali Bhutto's death anniversary

Sherpao takes pride in hosting the second convention of the PPP in his native town of Peshawar, which had traditionally been a stronghold of the Red Shirts Movement of popular Pashtoon leader Ghaffar Khan, lovingly called Bacha Khan by his followers.

Open defiance of the then strongman, Ayub Khan, made ZAB an iconoclast and a hero. However, according to Sherpao, former bureaucrat J Rahim, a doctrinaire leftist, was the real ideologue of PPP. The express goals of the party – an egalitarian democracy and application of socialist ideas to realise economic and social justice – came in the party's manifesto authored by Rahim.

"Later Sheikh Rasheed and other Leftists of the time got together and formed the party. The party's manifesto was written by J Rahim," recalls Sherpao, who was then a commissioned officer in Pakistan Army, but his elder brother was among the co-founders of the party. However, ZAB soon cast his charm and became the face of PPP and his slogan of 'roti, kapra aur makan' became a household incantation.

All but one accused have met their fate, says Zardari

Sherpao counts the 1973 Constitution, nuclear programme and summit of heads of Islamic states as the biggest achievements of ZAB. He emerged as a towering figure of the Muslim world. However, many of the party's pioneers, including J Rahim, quit the party due to ZAB's autocratic attitude and style of governance, according to Sherpao.

Riding on a wave of popularity, ZAB got rid of whoever tried to resist his decisions. The old faces were gradually replaced with new - many of whom had nothing to do with the party's ideology.

ZAB called general elections a year earlier than schedule. Sherpao sees a conspiracy ZAB fell into by calling early polls. "There was a bigger plan to oust ZAB and cut him to size," he said.

Zulfikar Ali Bhutto: The man who made history

"There were certain people around him who convinced him to call early elections. One of them was a cabinet member who convinced ZAB that the party will win if we go to elections now. The gentleman was married to an American lady, and the family had lived their life abroad. People say he was working on foreign agenda," recalls Sherpao.

As soon as ZAB announced elections, Pakistan National Alliance, a coalition of right-wing parties, came into being out of nowhere. "They (PNA) received huge money in dollars. If you go into the history of that era, Asghar Khan, one of the pioneers of PNA, had publicly said before the elections that they would not accept the results if the alliance lost."

A conspiracy was in the works to oust the PPP and create turmoil in the country, says Sherpao. Was it an international conspiracy? "Yes," says Sherpao. An American conspiracy? "Absolutely, yes," he reaffirms.

However, he is quick to add that many internal factors were also involved in the ouster of ZAB and his subsequent execution on 'flimsy charges'. In the second part of the interview will focus on these internal factors.

Published in The Express Tribune, October 19th, 2015.