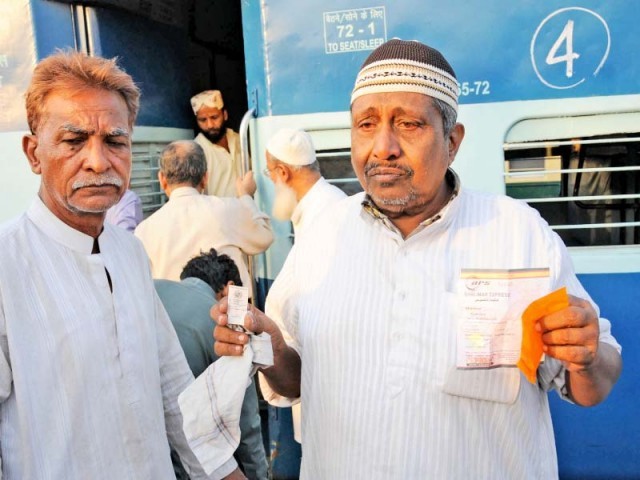 ---
LAHORE: Indian Railway Authorities have once again refused to allow the Delhi-bound Samjhota Express, which was scheduled to depart from Lahore on Monday, to enter the country, Pakistan Railways spokesperson said.

This is the second cancellation in one week, causing stranded passengers in Lahore to go back to their homes.

The Indian railways cited the same reason for the cancellation as the one before: that prolonged protests by Indian farmers on railways tracks may lead to an untoward incident, sparking tension between the neighbouring countries.

Read: Pakistan expresses concern over cancellation of Samjhota Express operation

Farmers in Indian Punjab are protesting against the policies of the state government over inadequate compensation for the losses to their crops this year. The protests have forced the suspension of all rail traffic.

As many as 40 passengers were at Lahore railways station's rest area when Indian authorities on October 8 closed the gates and refused to allow Samjhota Express to cross the Indian boundary due to security issues.

A total of 210 passengers -- 80 Indians and 130 Pakistanis -- were scheduled to depart for Delhi; however, after the cancellation, 170 passengers decided going back to their respected cities, whereas 40 passengers -- 20 Indians and 20 Pakistanis -- stayed in Lahore to catch Monday's train.

Read: Envoy summoned over Samjhauta Express return

Railways spokesperson said that Pakistan Railways would facilitate the stranded passengers to reach their respected areas, adding that the foreign office would tackle visa-related issues for those Indian passport holders who were stranded at the Lahore railways station, owing to the expiry of their visas.

Moreover, Pakistan Railways is hopeful for the departure of Samjhota Express on Thursday, October 15.