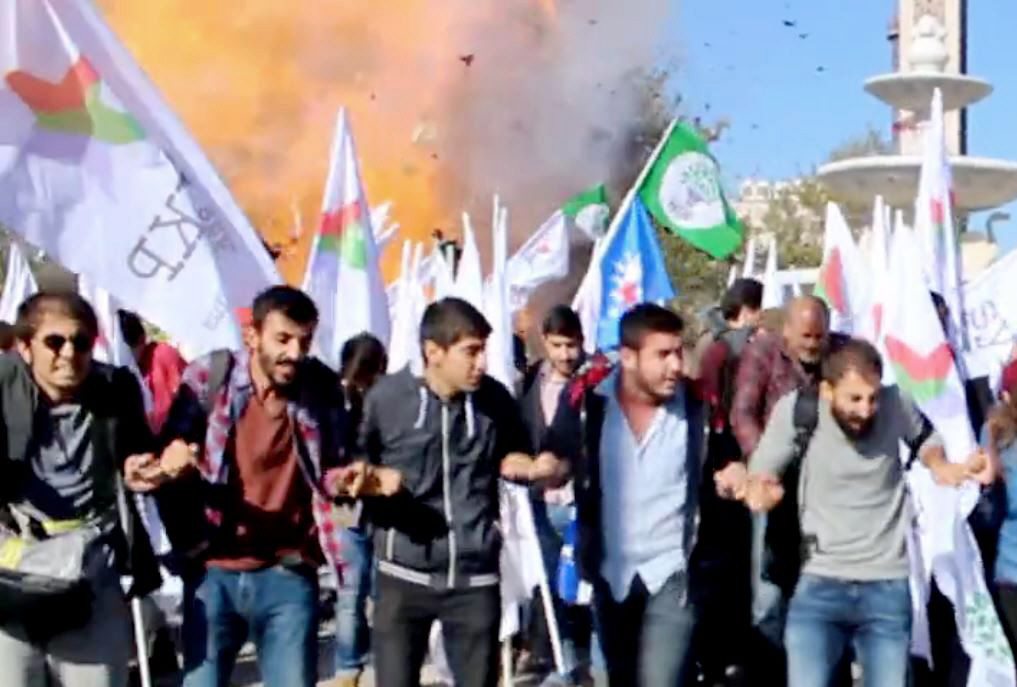 ---
ANKARA: At least 86 people were killed when two suspected suicide bombers hit a rally of pro-Kurdish and leftist activists outside Ankara's main train station on Saturday, weeks ahead of an election, in the deadliest attack of its kind on Turkish soil.

Bodies covered by flags and banners, including those of the pro-Kurdish opposition Peoples' Democratic Party (HDP), lay scattered on the road among bloodstains and body parts.

"Like other terror attacks, the one at the Ankara train station targets our unity, togetherness, brotherhood and future," President Tayyip Erdogan said in a statement, calling for "solidarity and determination".

Health Minister Mehmet Muezzinoglu told a news conference that 86 people had been killed and 186 wounded, 28 of whom were in intensive care. The death toll could rise further.

Witnesses said the two explosions happened seconds apart shortly after 1000 a.m. as hundreds gathered for a planned march to protest over a conflict between Turkish security forces and Kurdish militants in the southeast.

"I heard one big explosion first and tried to cover myself as the windows broke. Right away there was the second one," said Serdar, 37, who was working at a newspaper stand in the train station. "There was shouting and crying and I stayed under the newspapers for a while. I could smell burnt flesh."

Read: Five children wounded in bomb blast in Turkey's southeast

There were no claims of responsibility for the attack.




But the NATO member has been in a heightened state of alert since starting a "synchronized war on terror" in July, including air strikes against Islamic State fighters in Syria and Kurdistan Workers Party (PKK) bases in northern Iraq. It has also rounded up hundreds of suspected Kurdish and Islamist militants at home.

Kurdish militants' ceasefire

The attacks, in the scale of casualties, exceeded events in 2003, when two synagogues, the Istanbul HSBC Bank headquarters and the British consulate were hit with a total loss of 62 lives. Authorities said those attacks bore the hallmarks of al Qaeda.

Saturday's attacks came as expectation mounted that PKK militants would announce a unilateral ceasefire, effectively restoring a truce that collapsed in July. The government had already dismissed the anticipated move as an election gambit to bolster the HDP, whose success at June elections had helped erode the ruling AK party's majority.