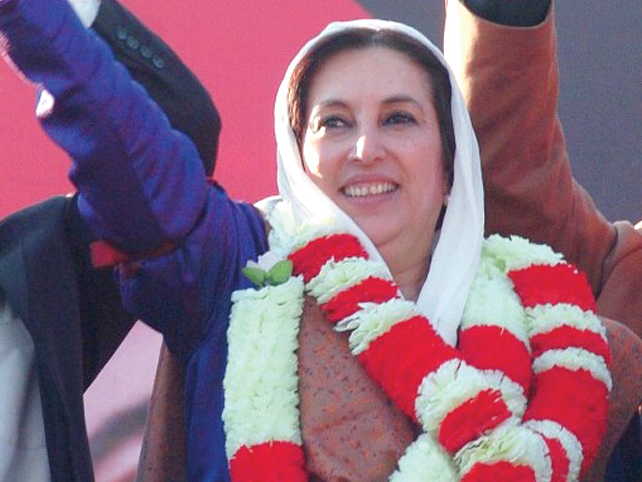 ---
ISLAMABAD: Former director-general of Military Intelligence (MI) Lt- Gen Nadeem Ijaz appeared on Wednesday before a fact-finding committee inquiring into the circumstances of the assassination of former prime minister Benazir Bhutto.

The committee recorded his statement on the hosing down of the murder site hours after the ex-premier was killed. Ijaz, still serving in the military, is learnt to have denied the charge that he had ordered the city police to wash away the crime scene immediately after Benazir Bhutto was assassinated in a gun-and-suicide attack back in 2007. Prime Minister Yousaf Raza Gilani last week constituted the three-member committee to find out whether Ijaz was behind destroying critical forensic evidence by ordering the washing of the murder site outside Liaquat Bagh in Rawalpindi.

The body was set up in pursuance of a decision by the ruling Pakistan Peoples Party (PPP) to constitute criminal cases against all those individuals and institutions mentioned in the UN Commission report. One of police officials told the UN commission that he washed away the road where Benazir was assassinated after receiving directives from Ijaz, who was then heading the MI, the military's internal spy agency. Headed by secretary cabinet division Abdul Rauf Chaudhry, the committee comprises two civilian and one military official. Other members are Maj-Gen Sajjad Ghani, the vice chief of general staff and Fayyaz Tooru, additional chief secretary (Home) Khyber-Pakhtunkhwa.

Scant details of Ijaz's quizzing by the committee emerged, but some media reports speculated that he was questioned for more than two hours and also submitted a written statement. Before meeting the committee at an unknown location, Ijaz had reportedly sought guidance from the military's top leadership. It is rare in Pakistan's history that civilian authorities have interrogated a high-ranking officer of the country's powerful military. Ijaz is a close relative of the then President Pervez Musharraf, whom the PPP also wants to take to court for being involved in the murder.

Both Musharraf and Ijaz have been denying these allegations. Only a day after the PPP decision of moving against Musharraf and others mentioned in the UN inquiry report, a media report suggested that the government wants to initiate a criminal case against Nadeem Ijaz and former Intelligence Bureau (IB) Chief Ijaz Shah. But the same day military Chief Ashfaq Pervaiz Kayani met with President Asif Ali Zardari and premier Gilani. Though no details of the meeting emerged, experts believe the military would never allow anybody to embarrass any of its attached agencies.
COMMENTS (2)
Comments are moderated and generally will be posted if they are on-topic and not abusive.
For more information, please see our Comments FAQ