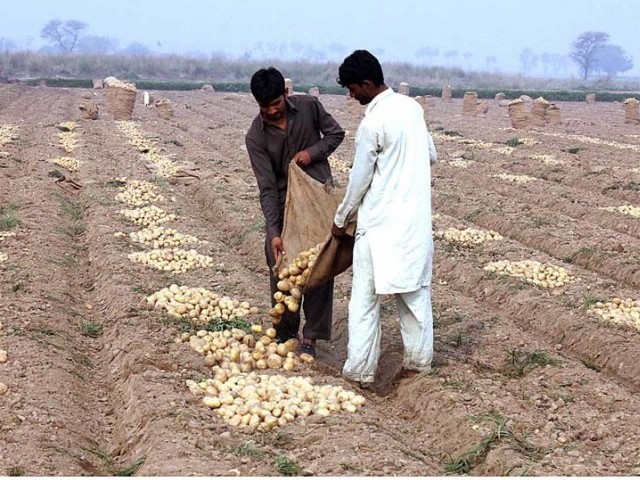 ---
MINGORA: Around 3,000 farmers in Upper Swat, Shangla and Kohistan districts have been negatively affected by the decrease in prices of potatoes in the national market.

In open-ended discussions with The Express Tribune, farmers from Kalam, Bahrain, Manikyal, Pashmal, Oshu, Uthrar and Gabral areas in Upper Swat, Bassi Kas, Upper and Lower Alpuri, Besham, Kormang, Lalonai and Martung areas of Shangla and Dassu in Kohistan voiced their concern at the decreasing prices of potatoes in urban areas. Since the altitude and climate in these regions are highly conducive for potatoes, it is estimated 70% of those involved in agricultural activities in these districts were farming the vegetable.

Identifying the issue

The decrease in the prices of potatoes can be attributed to the abundant supply. Since potatoes are being grown in various parts of the country, particularly in Punjab, the vegetable's supply superseded its demand.

Namin Khan, a farmer from Lalonai, Shangla said, "A local NGO's representatives, working in the agriculture sector, advised us to grow potatoes since they were in high demand in areas of Punjab, Karachi and Peshawar." He said initially they would make a profit of Rs3 to Rs5 per kilogramme. However, since the price of potatoes has been at Rs30 per kilogramme, he does not manage to cover his cost.




A farmer from Pashmal, Khaniullah, said, "This problem is due to the inefficiency on the part of the government." He said not many crops can be grown at higher altitudes so the government should only allow farmers from these regions to grow potatoes. "How else are we to maintain our livelihood?"
he questioned.

He added the Swat district government had suggested they grow dry fruits. "But that is a luxury and not a staple food item that people will buy on a regular basis." He said he had already lost Rs0.5 million in potato farming.

Floods and saturation

An agriculture official recently posted to Kalam, Naveed Khan, said, "Prior to the devastation caused by floods in Chitral in 2014, nearby Swat Valley provided 20 metric tonnes of potatoes per hectare. He added, "The rest of the districts yielded 17 to 18 metric tonnes."

Naveed said the floods damaged the infrastructure to such a great extent that only nine metric tonnes was produced in Swat in 2014. "Even though the contribution reached 21.2 metric tonnes in 2015, dilapidated roads caused 35% of the crop to be wasted during transportation," he added.

The official explained the current price of potatoes in urban areas was Rs30 per kilogramme while in rural areas the farmers had increased it to Rs35 per kilogramme.

Another official, requesting anonymity, said, the federal government has distributed multiple kinds of seeds among farmers in central and rural Punjab that has increased their crop yields but is least interested in the plight of K-P farmers." He said Chitral's crops are among the best and the fact that they cannot even reach the provincial market says a lot about the government's priorities.

Plight of farmers

Kalam farmer union member Syed Alam said they visited the office of Swat DC Mehmood Aslam Wazir to discuss the issue but to no avail. "We were not even allowed to see him," he added. He said he could not even think of a way to break even and cover his cost at the moment.

Mudir Shah, a grower from Manikyal, said since he did not believe in food hoarding, he had started distributing the potatoes among his friends. "It's better than selling it at a huge loss in the market," he added. "I have already lost Rs0.35 million. If the government doesn't step in soon, my source of income will be ruined."

Published in The Express Tribune, October 7th, 2015.