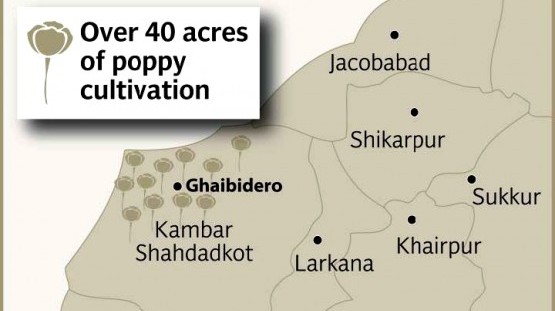 ---
KARACHI: Ramazo Marfani, 35, belonging to a village in the Kamber- Shahdadkot district, visits nearby Ghaibedero every year to get opium supplies free of cost, from his relatives who grow it.

A two-day camel ride away, in the hilly area of Rahojo Aaithiyoo, poppy cultivation is the major source of livelihood for most people. "I sell the opium to my villagers and of neighbouring areas and easily earn Rs20,000 to Rs30,000 from 2,500 grams of opium. "It supports my three-member family for a few months at a stretch," he told The Express Tribune. Like many things crossing into the country from the Afghan border, the poppy flower is one that has flown relatively under the radar.

Cultivated in the Kambar- Shahdadkot district near Larkana and areas of Fata, the only other places outside of Afghanistan, the practice has thrived through the support of influential people in its area, revealed an intelligence report sent to the federal government. Munawar Abbas, a revenue officer from the Kambar- Shahdadkot district told The Express Tribune that poppy has been harvested in the region for a long while, adding that the hilly area with links to Khuzdar in Balochistan, keeps it away from the government's eye. Locals explained that the crop is mostly supplied to Balochistan and different areas of Sindh.

"The crop is currently in season and many traders can be seen purchasing it wholesale from growers," said one resident. Grown in the remote villages of northern Sindh, like areas of the Shahani and Bolani tribes, under the Ghaiberdero Union Council of the Kambar-Shahdadkot district, opium prices vary from area to area, generally ranging from Rs35,000 to Rs45,000 per kilogram, said local journalist Noor Chandio. Aware of the budding trade, the federal government has directed local police, the antinarcotics force and the district administration to begin an investigation before taking action.

"We recently held a meeting where anti-narcotics officials and the district police came up with a strategy to address the situation. "We recommended to higher authorities to provide a large force to take action against the people. But we are waiting for the response. We need the support of Rangers and the army," said Munawar Abbas, who is also part of the investigation team. However, not everyone in the area feels the same way about the opium trade. Growers who have cultivated the crop for many years described a possible poppy ban as a major loss of income for them, and opposed government action.

As a result, a similar story seems regarding poppy production seems to be repeating itself from across our western border, leaving us with a dilemma; can opium production be controlled without destroying the livelihood of hundreds of people? Will Pakistan be the next Afghanistan?