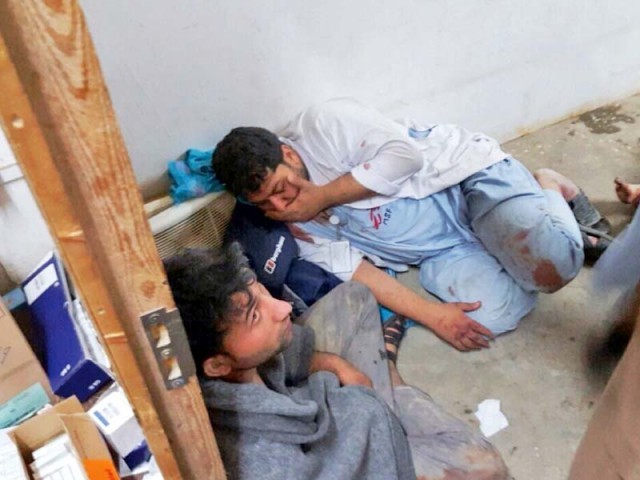 ---
KABUL: Medecins Sans Frontieres (MSF) on Sunday denied Taliban fighters were firing from its hospital at Afghan and Nato forces before a suspected US airstrike killed at least 22 people in a battle to oust the insurgents from Kunduz a day earlier.

The medical aid group demanded that an independent international body investigate the destruction of the hospital, saying it could not rely on a US military probe that has been launched into the incident.




The US military has said it conducted an airstrike 'in the vicinity' of the hospital, as it targeted Taliban insurgents who were directly firing on US military personnel. The US-led coalition force in Afghanistan said it expected to complete a preliminary multi-national investigation in days into whether the airstrike hit the hospital.

Afghanistan's Ministry of Defence has claimed that Taliban fighters had attacked the hospital and were using the building 'as a human shield'.

But MSF, in an official statement, denied this, saying: "The gates of the hospital compound were closed all night so no one that is not staff, a patient or a caretaker was inside the hospital when the bombing happened." It added that "bombing a fully functioning hospital can never be justified in any case."

In a separate statement, an MSF official called for an independent probe in the bombing.

"Under the clear presumption that a war crime has been committed, MSF demands that a full and transparent investigation into the event be conducted by an independent international body," MSF General Director Christopher Stokes said. "Relying only on an internal investigation by a party to the conflict would be wholly insufficient."

Staff pulled out

MSF said it had pulled most of its staff out of the area on Sunday because the hospital that was a lifeline for thousands in the city was no longer functioning. Some staff had gone to help treat the wounded at other hospitals outside of Kunduz.

Published in The Express Tribune, October 5th, 2015.