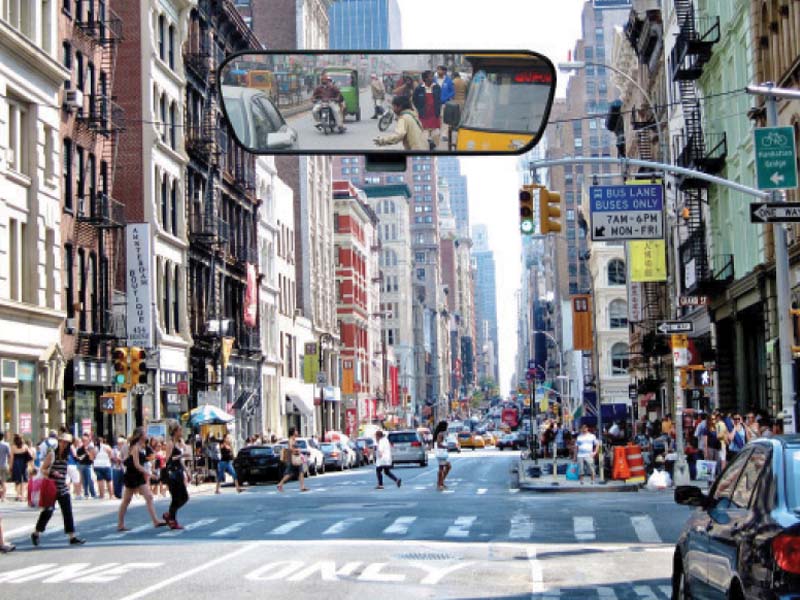 ---
KARACHI:



Three artists displaying their works at Full Circle gallery show that when it comes to our society, there are not just two but many sides to a coin.




Babar Moghal, Nauman Abid and Zahid Farooqui are exhibiting their unique works, titled 'Two Sides to a Coin', in an attempt to show multifaceted angles to a single story and, above all, a middle ground between abstract versus reality, the past and the future.

The artists use fine skills to show various visual contrasts to whatever goes around in the society. After all, art is meant to shift one's attention from mere face value and instead focus on the concealed and unobvious.

This contrast between the subconscious versus the abstract has been expressed by Moghal through music. A fan of Western classic and hard rock, Moghal has translated his illustrative feelings on oil on canvas through rusty rickshaws and forgotten signboards.

"I find linear and flat surfaces very boring. I tend to avoid such situations in real life," Moghal told The Express Tribune, referring to the common thread of hazy, windy images on his canvases. For Moghal, music generates hypothetical futuristic scenes in his mind. He believes his illustrations are free and open for interpretation. "People make up their very own versions of pictures when they listen to music. I express it this way," said Moghal.

The same hint of futuristic attachment, the difference being the failure of detachment with the past can be seen in Abid's work. His main theme is of flashbacks while living on the edge of a dream.  A rear view mirror shows the hustle bustle of the homeland as one drives through the upscale metropolis of the Western world, or a fragment of Burjul Arab in Dubai in local, dusty surroundings depict man's incapability of shaking his past, both immediate and long-term.

Abid explains his images on C-print photographic paper as a phenomenon of migration in Pakistan, when people leave for greener pastures after being troubled by the law and order situation. "It can also be seen from the angle that we are a colonised society," he said. "For us, upward mobility is through connecting with the Western world."

A different yet captivating bit of Abid's work that reveals the new tides that art is exploring these days is the screenshot of a computer screen that has Facebook open on one tab.  The picture shows an approaching calamity, in the form of a dust storm, with people calling out God's mercy in the comments section. "I believe that this is the perfect example of accidental idiocy of the people. There is no sense of communication…God has been digitalised in the virtual world."

On the other hand, Farooqui tried to revamp history by making use of his past crumbled images to paint something entirely new.

"One of the reasons behind doing oil on canvas on crumbled paper was to reconnect the present generation," he said. "We are more into social media and less focused on our history."

Published in The Express Tribune, October 4th, 2015.