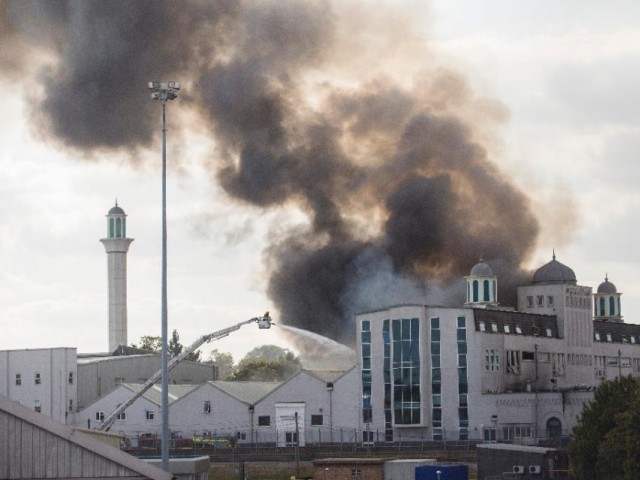 ---
Thousands of people assembled for Friday prayers at a place of worship for Ahmadis as it reopened its doors in South London, a week after it was damaged by fire.

A blaze broke out on Saturday at the Baitul Futuh which claims to be the largest in western Europe. Two community halls and offices were destroyed in the fire but the main prayer areas escaped damage.

Read: Blaze at Ahmadis' place of worship in London

With a smell of smoke still hanging in the air, representatives of other faiths, community leaders, local councilors and members of the police service joined Ahmadis as the place of worship reopened. The prayers were broadcast to 200 countries in seven languages.

The place of worship was built for the Ahmadi community to provide people with a meeting place and venue to hold social religious events.

Two teenagers were arrested on suspicion of arson. One, aged 14, was bailed pending further questioning and a 16-year-old was released with no further action. A Metropolitan police spokesperson said the investigation was ongoing, but there was "nothing to suggest this was a hate crime".

"The history of our community over the past 100 years in the UK was stored here and it is all lost," said Imranuddin, a member of Baitul Futuh's management team. "But the support locally has been unbelievable, from all sides of the community. It's really touching."

The 5.2-acre complex was completed in 2003. There is space for at least 10,500 people to pray, according to its website. The dome stands 75 feet above ground level.

"It is a very beautiful building and what has happened is very sad," said Stephen Alambritis, leader of the Merton Council local authority.

Construction of the Baitul Futuh complex was completed in 2003 at a cost of £20m, raised mostly from donations.

This article originally appeared on The Guardian.